"UGCC is facing the challenge of liquidating its Crimean Exarchate..." His Beatitude Sviatoslav during a press conference in Lviv
Saturday, 25 October 2014, 00:36
For the first time since its exit from the underground, UGCC is facing the challenge of liquidating its Exarchate in Crimea. Crimean authorities have issued a law by which all religious organizations have to undergo a process of re-registering by the end of 2014. There is no guarantee that such a process will confirm the right of UGCC to exist on these territories.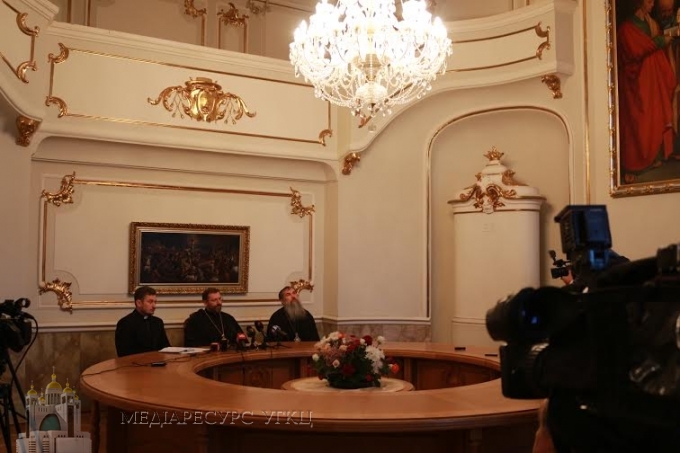 His Beatitude Sviatoslav, UGCC  Head, stated this  during a press conference on October 23, 2014 in Lviv within  the framework of the Meeting of Eastern Catholic hierarchs of Europe, which this year was  dedicated to the 25th anniversary of UGCC's exit from the underground.
On the territory of Crimea there exist five Greek-Catholic parishes: in Evpatoria, Simferopol, Sevastopol, Yalta, and Kerch.  As  is known, during the annexation of  Crimea, Greek-Catholic priests were arrested and even left the territory for some time.  However, in Evpatoria until now there is a pastor, and to the other parishes a priest comes every three months.  According to a RF existing law, pastors on the peninsula can only legally serve there for three months. 
As to the situation of UGCC in the ATO zone, which includes the Donetsk Exarchate, today in Donetsk there are two priests who have legally received permission from the terrorists to serve there.  In nine other exarchates, Liturgies are held on Sundays and holy days. "Donetsk Exarch Bishop Stepan was forced for some time to leave the territory of the exarchate because his home was taken over by fighters, as was also the monastery of Sister Servants, the Monastery of All Ukrainian Saints in Donetsk,"  he said.
"Please pray for those priests who are there right now because they are risking their lives.  Right now our attention is also turned towards assisting the refugees from Kharkiv, Donetsk, and Odesa exarchates.  We are cooperating with Caritas in this," stated UGCC Head.
UGCC Department of Information
MEDIA