UGCC representatives participated in the 18th Renovabis Charitable Fund International Congress
Thursday, 11 September 2014, 11:59
On September 5, 2014 in the city of Freising near Munich (Germany), the 18th Annual International Congress, organized by the Renovabis Charitable Fund concluded. This year the topic of the Congress was : Church – Media – Public Opinion .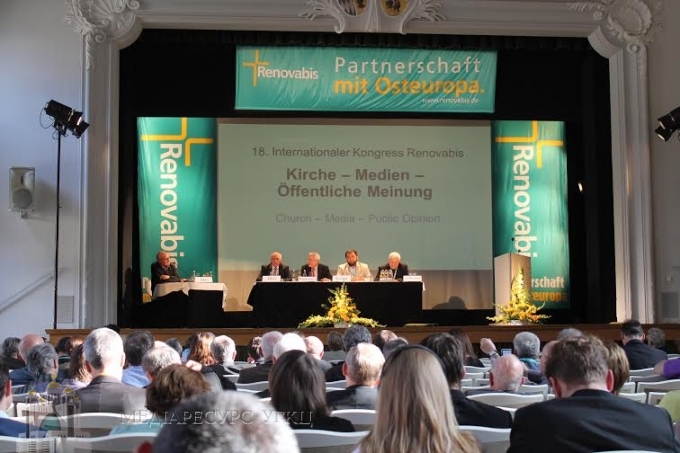 As was formerly announced, this event was attended by close to 340 people of various confessions from Georgia, Slovakia, Bulgaria, Russia, Belarus, Germany, Poland, Romania, Armenia, and other countries. Among the participants were bishops, priests, monks, and laity. Thus, in particular, actively participating in the work of the congress were: RCC Lviv Archbishop Mechyslav (Mokshytskyj); Bishop Petro (Kryk), Apostolic Exarch for Ukrainian Greek-Catholics in
Germany and Scandinavia; Bishop Oleh (Butkevych), RCC Witebsky Diocese Ordinary in Belarus.
The Ukrainian Greek-Catholic Church at the congress was represented by about 15 people.
On the day before, September 4th, there were interesting presentations by three church mass medias from Germany, Russia, and Poland. They represented the church media in those countries and how they influence the awareness of people. On that day the group workshops became the top interest event. There were seven groups which discussed various issues that concern the church media: Catholic media in Slovakia and Poland, blogs in the contemporary world; photos in PR work; journalistic standards in Catholic media; freedom of press; church media in conflict-laden situations; new directions of media communications in Central and Eastern Europe,
The Congress concluded with a speech by Dr. Andreas Putman on Christian upbringing today and a discussion on the pros and cons of new media.
It is worthwhile to note that the Divine Liturgy began every working day of this forum. Also, we note that the Liturgy in the Byzantine Rite was sung by Ukrainian students from the Catholic University in Eichstadt (Germany).
In conclusion, Rev. Stefan Dartman, General Manager of Renovabis Charitable Fund, expressed words of support for Ukraine, emphasizing that Renovabis Fund representatives were very pleased that the UGCC delegation in such large numbers participated in the work of the Congress. He also announced that the next Renovabis International Charitable Fund Congress will be held on September 2-4, 2015 in Freising (Germany). It will focus on issues of European youth.
It is noteworthy that the Congress was held in the residence of Cardinal Dofnera, Archbishop of Munich and Freising as well as in the Central Office of the Renovabis Charitable Fund, located in Freising city center.
Every year Renovabis Charitable Fund sponsors a solidarity activity between German Catholics and people of Central and Eastern Europe – an International Congress in the home garden of Freising. These gatherings, on the call of the German Catholic Conference of Bishops, Renovabis has been holding since 1997. Many activities by the participants from all parts of Europe serve as a an opportunity to exchange information and to discuss significant events in the Church and in the societies of Central, Eastern, and Southern Europe.
UGCC Department of Information
MEDIA