Ukraine needs your solidarity, - Head of the UGCC during the meeting with ambassadors of EU countries at the Holy See
Thursday, 17 February 2022, 22:25
On February 16, His Beatitude Sviatoslav, the Head and Father of the UGCC met online with the Ambassadors of the European Union accredited to the Holy See. For about two hours, the participants of the forum were speaking about Ukraine and the ministry of the UGCC in the context of the current international crisis.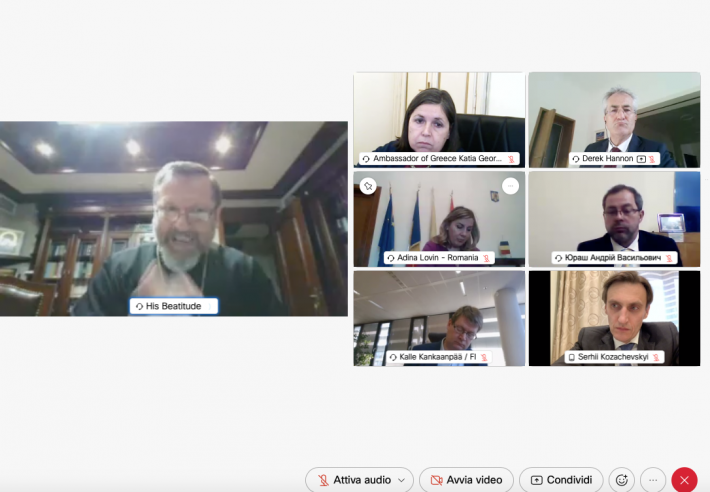 In his appeal to the ambassadors of the European Union the Head of the UGCC noted that "our Church already has experience in servicing during the war in eastern Ukraine and the occupied Crimea. Our priests did not leave their people under any circumstances. Therefore, now when we see different diplomats and politicians leaving Kyiv, the principle position of our Church is to be with our people".
The Head of the UGCC added that the religious life in Ukraine also does not stay aside from Russia's information attack, saying that "inter-religious and inter-confessional confrontation is taking place in our country." He highlighted a morning prayer in St. Sophia Cathedral on the Day of National Unity, which "is a speech gesture of spiritual unity of our people and the highest representatives of different religions and denominations. According to the latest statistical research, Ukrainian society trusts Churches and religious organizations the most. Therefore, the Church has a special mission to be at the heart of the unity of our people".
As for the service of the UGCC in this tense time, - said the Archbishop, - our Church remains with its people. This is the most important mission of ours. "To do this, he said, the UGCC has created a "solidarity network to be close to the people who are in extreme need".
His Beatitude Sviatoslav asks the international community not to forget about Ukraine, noting that it "needs solidarity of the international community" and recalls a recent telephone conversation with Cardinal Parolin, Secretary of State of the Holy See and Pope Francis' call for world prayer for Ukraine.
"We are grateful to the Holy Father, the diplomatic efforts of the Holy See, various European Episcopal Conferences and other international institutions of the Catholic Church for their support of Ukraine and awakening of the consciousness of the international community", said the Head of the Church.
In the context of the information war against Ukraine, His Beatitude Sviatoslav stressed the importance of "telling the truth." "Disinformation causes a great damage to our country, its reputation and economic development. That is why I ask you to be the voice of the truth about Ukraine", the Head of the UGCC appealed to the ambassadors.
PUBLICATIONS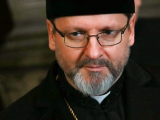 Glory to Jesus Christ! Dear Brothers and Sisters in Christ!
MEDIA