Ukrainian Catholics warmly receive leader
Sunday, 09 September 2012, 22:40
He came to see his people and his people responded. The Eparchy of New Westminster was abuzz Aug. 31 to Sept. 2 with the visit of their shepherd, Major Archbishop Sviatoslav Shevchuk. The eparchy celebrated with a moleben (a prayer service), the blessing of a newly christened eparchial house, and Divine Liturgies (Mass) in Vancouver and Kelowna.
Before the man known to the Ukrainian faithful as His Beatitude settled into his official functions, he sat down with The B.C. Catholic for an exclusive interview.

The leader of the Ukrainian Greek Catholic Church discussed the reemergence of the church after its liquidation by the Soviets, its current struggles and successes, Orientalium Ecclesiarum, and the possibility of elevation to patriarchate status.

Archbishop Shevchuk was travelling with Metropolitan Ihor Vozniak, CSsR, of Lviv; Bishop Peter Stasiuk, CSsR, of Australia, New Zealand, and Oceania; and Bishop Daniel Kozlinksky of Argentina. Their accommodations were at the Bishop Jerome Chimy Eparchial Centre in New Westminster.

After being greeted by Eparch Ken Nowakowski of New Westminster and several Ukrainian faithful, Archbishop Shevchuk blessed the dazzling new eparchial centre in New Westminster. Several special guests were on hand, including Archbishop J. Michael Miller, CSB, Ukrainian Catholic priests, and civil leaders Mayor Wayne Wright of New Westminster, NDP MLA Dawn Black, and NDP MP Fin Donnelly.

Later that evening Major Archbishop Shevchuk led a moleben at Holy Eucharist Cathedral. Parishioners welcomed him with bread and salt, a Ukrainian tradition.

After the moleben Major Archbishop Shevchuk attended a reception in the cathedral's basement, where he was presented with gifts.

The next day Major Archbishop Shevchuk celebrated Divine Liturgy at Protection of the Blessed Virgin Mary (St. Mary's) Church in Vancouver.

In attendance were Archbishop Miller and priests from the Ukrainian eparchy and the Archdiocese of Vancouver, as well as other Orthodox leaders and an Anglican. The major archbishop has made it one of his goals as the Ukrainian Catholic leader to dialogue with Orthodox Christians.

From the Lower Mainland Archbishop Shevchuk set off on a four-day whirlwind tour of B.C., finishing his visit to the Eparchy.
By Nathan Rumohr
The B.C. Catholic
(http://bcc.rcav.org/component/content/article/1-latest-news/1948-ukrainian-catholics-warmly-receive-leader)
PUBLICATIONS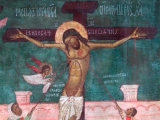 "Open to me the doors of repentance, O Giver of Life. As we worship in Your temple this morning, teach us how to purify the temple of our...
MEDIA