Ukrainian prime minister Arsenii Yatsenuk visits Vatican
Sunday, 27 April 2014, 11:06
On Saturday 26 April 2014 Pope Francis received Ukrainian Prime Minister Arsenii Yatseniuk, who was subsequently received by Secretary of State, Cardinal Pietro Parolin. The content of their discussions will be published in upcoming days.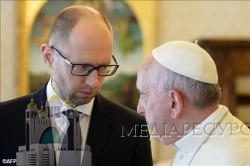 From the Vatican, Yatseniuk and his entourage travelled to the Basilica of St. Sophia on the Via Boccea, built by Ukrainian Confessor of the Faith, Cardinal Yosyf Slipyi (+1984), who had been condemned by Joseph Stalin in 1945 to 18 years in the gulag. Slipyi was named a cardinal "in pectore" (in secret) by John XXIII a few years before his release in 1963.

At St. Sophia's. PM Yatseniuk and entourage will participate in a prayer for Ukraine and meet the local Ukrainian community.

As head of the Ukrainian Government, Yatseniuk has come to represent Ukraine at the Canonizations of Popes John XXIII and John-Paul II,but escalating Ukrainian-Russian tensions prompted him to return home instead of staying for the canonization ceremony on Sunday.

Other members of the official Ukrainian delegation include Foreign Minister Andrii Deschytsya and Andrii Sadovyi, the Mayor of Lviv, a city which JP2 visited during his 2001 trip to Ukraine.
Yatsenyuk spent 18 minutes behind closed doors with the pope on Saturday, who had urged the international community to "prevent violence" in Ukraine in his Easter Sunday message, AP informs.
During the cordial talks, which took place in the context of the good bilateral relations between the Holy See and Ukraine, the current situation was discussed, with the hope that all interested parties would work together constructively for the restoration of political and social stability of the country, within the scope of international law, and that they would promote understanding among the peoples of the Region. The specific role of churches and religious organizations, and of individual believers, in fostering mutual respect and harmony among all sections of society was also noted. Finally, possible further action by the international community was mentioned."
At an exchange of gifts, Yatsenyuk presented Francis with a photograph of Maidan square in Kyiv on New Year's night.
"This is where Ukrainians fought for their freedom and rights. Millions of people," he said.
The pope in return gave the Ukraine leader a pen, saying "I hope this pen will sign the peace", to which Yatsenyuk replied "I hope so."
PM asked the Pope to pray for Ukraine and do everything within his power to bring peace and stability to Europe.
RISU
MEDIA