Ukrainian Watercolors for Rome
Tuesday, 15 October 2013, 16:34
On Sunday, October 13th, young musicians from Ukraine will perform at the Ukrainian parish of Saints Sergius and Bacchus in Rome. The concert will be held at 11 AM in the parish hall of the Church of Saints Sergius and Bacchus at Piazza della Madonna dei Monti, 3 (near the metro Kavur on Line B).
A violin and a push-button accordion --such a surprising exclusive will be offered by the duet of Lydia Futorska (violin) from Lviv and Serhiy Khorovets (accordion) from Rivne.
In this somewhat surprising composition, the duet has toured Ukraine and Europe for over a year.  The musicians say that in Europe such "surprises" are already traditional, while for Ukrainian audiences they are still at the stage of discovery. "The Ukrainian musical community is somewhat conservative, but we hope to make progress in this area and to realize new creative endeavors," said Lydia Futorska.
According to the musicians, the idea of preparing the Ukrainian Watercolors program emerged during their tour in Poland when they played Polish mazurkas.  "This project was initiated by Polish audiences," said Serhiy Khorovets.  "They asked us: Bring something of your own – we would very much like to also hear your Ukrainian music!"   So we developed the program concept in a basic classical style and chose music that was solely written by Ukrainian composers.  Thus came into being the name "Ukrainian Watercolors".
The concert includes a Sonata by Maksym Berezovskyj,   Ave Maria by Mykhaylo Skorulskyj, music to the film "Shadows of Forgotten Ancestors" by Myroslav Skoryk, and many other warm, profound or well-known melodies that even more than words, expose the versatility of the soul of Ukrainian people.
Ukrainian Greek-Catholic Parish of Sts. Sergius and Bacchus, Rome  
PUBLICATIONS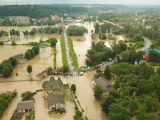 Your Graces and Excellencies, Very Reverend and Reverend Fathers, Venerable Brothers and Sisters in monastic and religious...
MEDIA