Ukrainians in Athens celebrated the 1025th anniversary of the Baptism of Rus-Ukraine
Tuesday, 30 July 2013, 19:50
Ukrainian Greek Catholic community of St. Nicholas in Athens celebrated the 1025th anniversary of the Baptism in Rus-Ukraine. On Sunday, on the Feast of Saints Volodymyr the Great, Prince of Kiev, the Divine Liturgy at the Holy Trinity Cathedral was celebrated by Bishop Demetrius (Salakhas), Apostolic Exarch for the Greek Catholics in Greece.
The Mass was coserved by The Rev. fr. Taras Harasymchuk and priests from different countries and continents: Fr. Jackson (Haiti), Fr. Hryhorius (Indonesia), Fr. Salvador (Spain), Fr. Domenico (Italy), Fr. Angelo (Italy), Fr. Felis (Ruanda), Fr. Jaroslav (Slovakia), and Fr. Angelo (Croatia), Reverend Fr. Onufriy (Ukraine). The Liturgy was accompanied by the local church choir singing. During the Divine Service among hundreds of laypeople were seminarians Mario, Mirko, Gabriele, Marco (Italy), Sharbel (Lebanon), Florin (Romania) and Ostap, Alexander, Jaroslav, Vyacheslav (Ukraine).
In his homily Bishop said that in 313 Saint Constantine issued the Mediolan edict which proclaimed the religious tolerance in Byzantine Empire, and the Grand Duke Volodymyr, the sovereign of Kievan Rus, went much further, declaring Christianity as the state religion.
Although the Baptizer of Kyiv brought Christianity from Byzantium, this faith was the one, holy, catholic and apostolic, for which more than one Ukrainian generation had to prove their martyrdom and confessionalism. The preacher called for stability in the faith that begins with an understanding of own baptismal vows. Everyone at the prayer reinstated baptismal vows and recognized the confession of holy orthodox faith.
At the end of the Liturgy the clergy sanctified water and icons that the faithful have brought as a sign of their faith. Baptism Anniversary celebration ended with the procession going around the temple, and Chrism.
Reported by Ostap Harasymchuk
PUBLICATIONS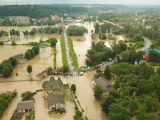 Your Graces and Excellencies, Very Reverend and Reverend Fathers, Venerable Brothers and Sisters in monastic and religious...
MEDIA