Vatican prayed for Ukraine
Thursday, 27 February 2014, 13:58
February 24th, in the afternoon, in St. Peter's Basilica in the Vatican, His Beatitude Sviatoslav (Shevchuk), the Head of the UGCC, led the Prayer for peace and the united Ukraine. The Prayer was held on the initiative of the Embassy of Ukraine at the Holy See with representatives of the diplomatic corps and the Ukrainian community of Rome.
The Prayer to the Blessed Virgin was prayed in a symbolic place for Ukraine - a side altar of the basilica in honor of St. Erasmus, where the mosaic image of Ukrainian Saints Volodymyr and Olha is situated. His Beatitude thanked Mrs. Tetyana Izhevska, Ukraine Ambassador at the Holy See, for the initiative, as well as the ambassadors of various European countries."These days Ukraine was enormously wounded - said His Beatitude - and now we have to heal its wounds - not only physical but also emotional wounds of our people. Today our task is to stop the enmity, misunderstanding and hatred of each other."
The words of special thanks His Beatitude expressed to the ambassadors of Poland, France and Germany - the countries through the mediation of which the signing of a peace treaty occured. "The most dramatic days of escalating conflict your ministers were in Ukraine, not leaving our nation in trouble, and this fact, in my opinion, stopped the bloodshed", - stressed the Head of the UGCC.
In conclusion His Beatitude Sviatoslav personally greeted with representatives of the diplomatic corps and thanked for their support of the Ukrainian people. We have to add that to pray for Ukraine the Ambassadors of Poland, Slovakia, Slovenia, Czech Republic, Hungary, Austria, Croatia, Lithuania, Cyprus and the UK arrived.
25 and 26 February from 10.00 to 17.00 at the Embassy of Ukraine in the Vatican the Book of sorrow will be opened (Rome , via Giovanni Bessarione, 8).
Press service of the Society "Saint Sophia"
PUBLICATIONS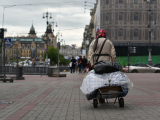 Pastoral Letter of the Synod of Bishops of the Ukrainian Greek-Catholic Church of 2020 to the clergy, religious, and laity...
MEDIA