Warsaw held jubilee celebrations
Thursday, 26 September 2013, 17:20
Monday, September 23, 2013 , 15U Sunday, September 22, 2013 , the celebrating the 25th anniversary of priesthood of Fr.Igor Harasymiv Ordo Sancti Magni Basilio , Provincial Superior of the Basilian Order in Poland was started by the solemn liturgy with the assistance of bishop's Eminence Archbishop and Metropolitan of Przemysl and Warsaw and Bishop John Martyniak Wroclaw- Gdansk Diocese - Volodymyr Juszczak Ordo Sancti Basilio Magni(OSBM) .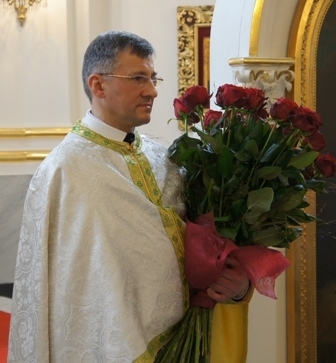 On this holiday , Proto-archimandrite of the Basilian Order - Fr. Genesis Viomar OSBM, Proto-hegumen of the Basilian Order in Slovakia - Fr. Methodius Bilanchyk OSBM protosyncellus Przemysl and Warsaw Archdiocese - Fr. Mytrat Eugen Popovic, hegumen  of St. Michael Basilian monastery in Venhozhevi and syncellus Przemysl and Warsaw Archdiocese - Fr. Dimitri Garasym OSBM Fr. Mytrat Andrew Soroka , rector of the Greek Catholic Seminary in Lublin - Fr. Bogdan Panchak , Abbot of the Basilian monastery in Przemysl - Fr. Julian Smith OSBM prior Basilian monastery in Ketrzyn - Fr. Nicholas Kozitskyy OSBM , pastor Warsaw Greek Catholic parish - Fr. Peter Kushka OSBM Fr. Basil Kepeschuk OSBM, Proto-hegumeness of the Order of Sisters of St. Basil the Great in Slovakia - sister Joseph Shima OSBM and  sister Daniel Shtefkovoyu , Proto-hegumeness of Province Sisters of St. Basil the Great in Poland - sister Magdalena Szewczyk OSBM.
Also, the Proto-hegumen invited  Polish Sejm deputy -Mr. Myron Sych with his wife Mary M. , Mr Miroslaw Czech , head of Union of Ukrainians in Poland - Mr Peter Tyma , Svetlana Hurkina - Director of the Institute of Church History in Lviv ,the  head of the parish Council of Catholic parish in Warsaw - Mr Yuriy Bo and his wife Anna M. , Professor Igor Halahida , Mrs. Eva Rybałt and numerous family, relatives and friends of Fr. Igor.
Bishop Volodymyr Juszczak OSBM depicted the path of priestly serving  of the Father Proto-hegumen and wished further fruitful service to the Church and the nation.
After the liturgy Metropolitan John Martynyak , Superior Fr. Genesis Viomar OSBM Fr. Mytrat Andrew Soroka, and other invited priests and numerous parishioners, who came to this feast of the different parishes , where over the years exercised his ministry Father Provincial congratulated Fr Ihor OSBM.
Finally Father Proto-hegumen l expressed his sincere gratitude to all who had come  and prayed and thanked God for the gift of service.
After that a festive dinner for the invited guests  took plce in the parlor at the church.
On behalf of Fr. Proto-hegumen and Basilian community in Poland, we are greatful to Reverend John Mytroporlytu Martyniak , Bishop Volodymyr Juszczak OSBM, Proto- archimandrite of the Basilian Order - Fr. Heneziyu Viomaru OSBM and all the fathers and the faithful for coming to this great celebration and praying together .
PUBLICATIONS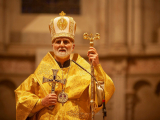 TUESDAY, JUNE 4 DURING HIERARCHIAL DIVINE LITURGY AT THE UKRAINIAN CATHOLIC CATHEDRAL IN PHILADELPHIA OVER 50 BISHOPS, WILL PARTICIPATE...
MEDIA