We bring up a quality of a pastoral care, not its quantity expansion, - Bishop Josaphat Hovera
Friday, 28 June 2019, 17:21
Exarchate of Lutsk is the smallest among all in respect of its territory and population. Yet, we bring up a quality of a pastoral care, not its expansion quality, stated bishop of Lutsk Josaphat Hovera.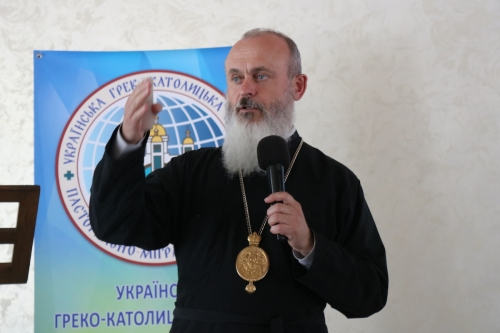 He mentioned that the exarchate embraces two regions – Volyn' and Rivne with their approximate population of two million Ukrainians.
"History of the UGCC in Volyn' is very important. Volyn', so to say, is a cradle of a union. A big role in history of the union's formation belongs to prince Ostrogski, who encouraged our bishops to go to Moscow and persuade Russian tsar to accept the union", said bishop Josaphat and added that exactly here, on the territory of Lutsk exarchate the most ancient icon in Ukraine is preserved - icon of the Mother of God of Kholm.
Describing the dynamics among believers' quantity, bishop mentioned that today nearly four thousand believers come to a church every Sunday, who are also active members of parish communities. In 2010 there were two and a half thousand people. If at the beginning there were 10 priests, so today we have 36 who serve. Generally, we have 27 active parishes.
There are also parish centers, where trainings for catechists and summer camps are organized. "Within a year we set up children's camps and annually involve over 400 children", said bishop Josaphat.
Today exarchate is working on an opportunity to get these two regions their pastoral center.
"We don't bring up an issue of a quantity expansion. We pay closer attention to a quality of pastoral care. Once, a seminarian, who came to exarchate was looking around and said: "Your Excellency, I won't come to You. As soon as I open a Holy Door and see five people there, I won't stand it. I need crowds". Missionary service of a priest is about bringing people to Church, to the Lord. If you have a crowd – you answer for all of them. Whether it is Galicia with its steadfast parishes or new mission territories – the responsibility of a priest id changeless: he answers for all entrusted souls to him", bishop Josaphat emphasized.
He heartened future priests not to be afraid to go to new territories, signifying that people are similar everywhere. "If God calls us to priesthood, He expects our work for the sake of one, five or hundred". Work – that is what matters. God will boost the growth of a community and Church itself", the Exarch of Lutsk summed up.
pmv.ugcc.org.ua
MEDIA