"We cannot give your dearest back, but we can share your grief", Head of UGCC to the relatives of perished in ATO
Thursday, 08 September 2016, 12:15
The reason we came to this cemetery is to stand in front of the graves of our heroes – servicemen and volunteers who gave their lives away at the altar of Ukraine. A sacrifice they made is our greatest treasure – spiritual and national one. This treasure will be a cornerstone of new free Ukraine. Owing to this spiritual treasure new Ukrainian generation will be upbringing.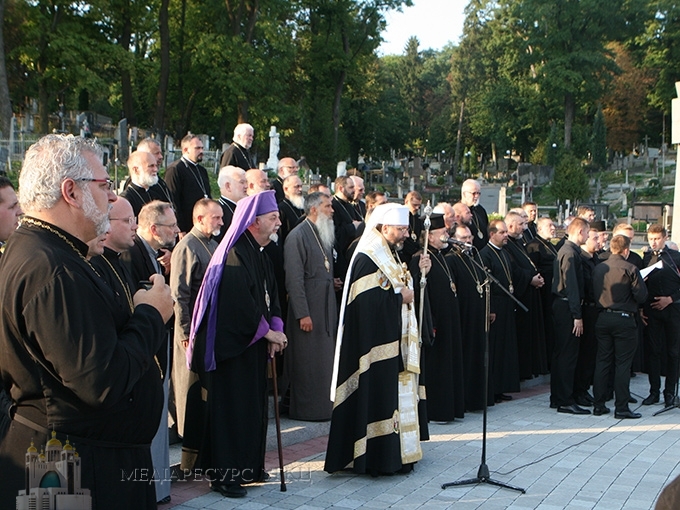 Father and Head of UGCC His Beatitude Sviatoslav appealed to the families of perished soldiers and volunteers in ATO during a prayer at Lychakivskiy cemetery in Lviv.
Head of the Church also added that the rest will be taught love and patriotism on their example: "standing in front of their graves, we want to honor them, bow our heads down before them, paying a considerable honor to them". He pointed out that owing to their sacrifice Ukrainian people spontaneously and deeply at the same time demonstrated Christian understanding of a heroic death. Since even small children know now what the words "heroes never die" mean.
"Being Christians we know that heroes come not from hating enemies but from love to the Motherland, family and everything what we have in our hearts, sacred and dear to us. A person who bears love in heart and is ready to heroism – never dies. Love, what comes from God is stronger than death, His Beatitude Sviatoslav explained. – We feel they are alive, they are with us, hear and see us".
"We cannot return your dearest ones from the eternity who should still live, love, create, give birth to children and bring them up. But we can be with you and share your pain", Head of the Church said.
Forty bishops of UGCC from around the world prayed with relatives of perished in ATO, aspersed graves with holy water and lit icon lamps. Later His Beatitude Sviatoslav talked personally with all relatives and gifted spiritual literature.
"We cannot give you them back, but we want to be with you, so you can feel yourselves a members of a big church community", Head of Church appealed to the one of mothers whose son died at the war. Another mother came up to His Beatitude and thanked him for Church praying continually for peace and asked not to give up on this prayer.
Among the relatives of perished were many children whom His Beatitude Sviatoslav blessed generously. He told one of the sons whose father died in ATO: "Hold on, and be as brave as you father".
The UGCC Department of Information
MEDIA