We served the Eucharist, which unites two churches - Milan Church of Holy Ambrose and Kyivan Church of Holy Volodymyr! – the Head of UGCC
Friday, 20 April 2018, 12:54
On April 18, 2018, for the first time in the history of the Patriarchal Cathedral of the Resurrection of Christ, the Divine Liturgy in the Traditional Ambrosian Rite (St. Ambrose of Milan) was held with the participation of the clergy from Milan Archdiocese of the RCC. The Mass was led by His Beatitude Sviatoslav. One hundred and twenty priests came from the RCC Archdiocese of Milan to Ukraine to participate in the annual retreat (usually held in different places and cities).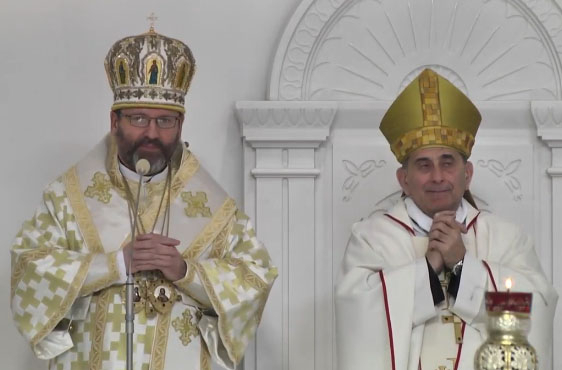 During the meeting, the Primate of the UGCC shared the history of our Church and the history of the Patriarchal Cathedral of the Resurrection of Christ. Moreover, the fathers of the Kyiv Archeparchy also came to the meeting to pray together at the Cathedral with the priests from Milan.
"I welcome you in this Patriarchal Cathedral of the Resurrection of Christ with the Easter greeting "Christ is Risen!" For the early Christians, Easter was always associated with the Eucharist and Church. After all, the Church, as the body of the Risen Christ, was born on Easter day!"- addressed joyfully and solemnly to all present, and especially to the guests of the temple, the Head and Father of the UGCC.
"Today, we are gathered near this altar and will serve the Eucharist, which unites two churches – the St. Ambrose's Church in Milan and St. Volodymyr's Church in Kyiv. In addition, for the first time in the history of this temple, the Liturgy will be served in the Ambrosian Rite. This is the gift of the Risen Christ for us! We will jointly celebrate the Blessed Eucharist, which is the sign of the highest and greatest expression of the unity of the Church of Christ. Let us ask Christ to help people find a peaceful path to unity and peace in life. Let us ask that this Eucharist would change us for what we are to accomplish," emphasized the spiritual leader of the Greek Catholics.
Department of Information of the UGCC
PUBLICATIONS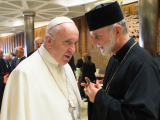 An unprecedented event took place in Rome on July 5-6. Desiring to demonstrate support for the Ukrainian Greek-Catholic Church at a time of...
MEDIA