"What do we ask God for, do this for our fellows", - the Head of the UGCC in Rome called the believers for the Lent, prayer and acts of mercy
Saturday, 21 March 2015, 12:13
On Friday evening, the 20th of March in St. Sophia Church in Rome His Beatitude Sviatoslav, the Head of the UGCC celebrated the Divine Liturgy of the Presanctified Gifts according to the Archbishop's rank. In his religious speech he called all faithful "to persevere in Lent, prayer and act of mercy".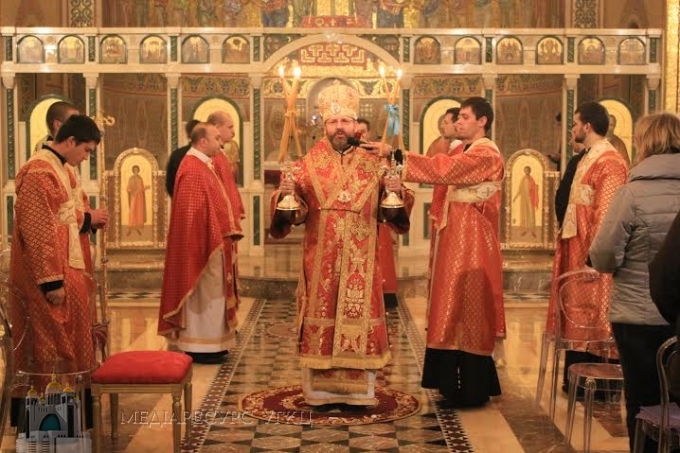 "Walking the road of Lent towards Christ Resurrection, it is important to remember about a three rules of this journey: prayer, fast and alms", - reminded the Head of the UGCC, citing the words of St. Peter Chrisolog, namely that "fast is a soul of a prayer and alms is a soul of the fast itself'. "The one, who asks God for mercy but is not merciful to his fellow, will get nothing from God. The one who keeps the fast but is not sympathetic to the hunger and thirst of those who do not have a daily bread on their tables - keeps the fast badly. The one, who asks God for gifts and do not share these gifts with his fellows, is fruitless in his own devotion", - signified in his sermon Archbishop Sviatoslav.
"Today we pray for our people who participate in the pilgrimage to the freedom. However, to make our prayer be heard, we ought to keep fast and perform acts of mercy. We must not live, governing by the empty religious devotion, being concerned about our own needs. Thus, I ask you all to persevere in fast, prayer and good deeds", - appealed the Head of the UGCC.
The representatives of the administration of Pope's College of Consecration to the Immaculate Heart of Mary together with students and Ambassador to the Holy See Tetiana Izhevska were also the participants of the Mass.
Press-Service of the "Saint Sophia" community
PUBLICATIONS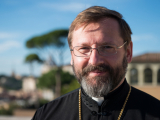 Dear Brothers and Sisters in Christ!
MEDIA