Where Is Your Blockhouse? – The Head of the UGCC, visiting Pope's College
Saturday, 21 February 2015, 18:28
On Wednesday, 18th of February Bishops of the Synod visited Pope's College of Consecration to the Immaculate Heart of Mary. During the canonical visit "Ad Limina", hierarchs, who are staying in Rome to attend Holy Father Pope Francis on Friday, accepted an invitation from a rector of the College, father Louis Kasiyan (OSBM) and visited Ukrainian students.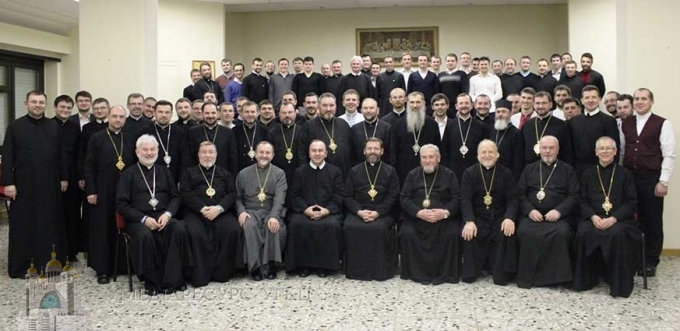 His Beatitude Sviatoslav, the Head of the UGCC, on behalf of all present Bishops expressed his gratitude to the College administration for their service for the students of our Church.
Appealing to the students, Archbishop Sviatoslav called for setting a question: "Where is my blockhouse where I reside during this rough for our Ukraine time? What is my task here and what mission must I execute?"
"Everyone has to reply to this question. However, I would like to share my mind with you… - proceeded the Head of the Church, conversing with a collegiate community. "The first blockhouse, where we have to withstand, - is a struggle with a sin. What you have to do as warriors of Christ, - is to fight for the knowledge. Fight for a perfect Christian life that you have to bring with you to Ukraine together with a gained knowledge!.. I want to ask you to watch and pray bravely at that blockhouse, where God has set you."
His Beatitude Sviatoslav enclosed his appealing to the students in such a way:"You are the sign of our Church and nation's future. God called you here to pray and study maybe not for this day but for the future because you are the future of our nation and our Church".
Beforehand, Ukrainian Bishops were serving at Archbasilica of St. John Lateran and St. Peter's Basilica Divine Liturgies.
MEDIA