Within the frames of the Social Days of the UGCC, the Social barcamp "Common Action" took place
Friday, 30 November 2012, 18:18
Recently, within the VI Social Days of the UGCC, within the premises of the Christian humanitarian and economic university, which is located in Odessa, the Social barcamp "Common Action" (barcamp is an informal, democratic meeting, conference) took place; more than 20 speakers from Odessa, Kyiv, Lviv, Mykolaiv and Amsterdam participated in it. The reports were delivered on such topics as social works, cooperation between various social movements and business structures and the influence on officials and on state. This was reported by Fr. Ihor Shaban, the head of the Commission of UGCC for Promoting Christian Unity.
All the discussions were divided into three sections: social orphanage (the mechanisms on how to solve this problem were presented); interaction between business and non-governmental organizations (businessmen told about what alienates them from the interaction with public figures and about what attracts them in this cooperation); positive experience from the influence on governmental authorities acting in the interest of public.
Father Vasyl Kolodchyn, the director of CF "Caritas-Odessa", in his comments pointed out that: "Social barcamp "Common Action" is becoming, nowadays, an important arena for debates and discussions of social issues and serve as a trigger for a deeper understanding of contemporary social and public concerns."
While responding to the questions of the participants regarding the idea and the purpose of such an initiative of the UGCC, Fr. Ihor Shaban particularly stressed that "Social Days of the UGCC  - is the first open platform of a kind in a post-Soviet space, that was established in order to unite the representatives of religious and non-governmental organizations in the public discussion regarding the social issues at the local and at the national levels".
UGCC Department of Information
PUBLICATIONS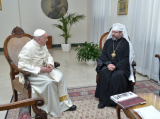 3 July at 10:00 AM, at Casa Santa Marta in the Vatican, Pope Francis met with His Beatitude Sviatoslav. The meeting was held at the request of the...
MEDIA