Within the lecture series they talked about authority and cooperation
Tuesday, 11 November 2014, 15:33
On November 10, 2014, in Lviv in the Church of the Annunciation of the Holy Mother of God, the next meeting of the UGCC Commission of Justice and Peace, "Lectures on the Social Doctrines of the Church in the parishes of the Kyiv-Halych Archeparchy" took place. Topic of the meeting was "Government, Christian understanding. Work. Working relationships, relationships at the workplace." Speaker was Mykola Varam, Secretary of UGCC Commission – Justice and Peace.
The participants, in particular, focused their attention on the government authorities. The speaker, referring to the documents and teachings of the Church, paid attention to the fact that "government is known as a means through whose srength people or organizations publish laws and orders to people and expect behavior from their side." As far as questions and concepts of work, the participants of the meeting jointly agreed that each one must know that a person is not an idol or a slave but, on the contrary, "a fundamental dimension of human existence is the participation not only in the act of creation, but also in the act of redemption. One, who suffers from hard and exhausting work in joining with Christ, cooperates with the Son of God in His issue of redemption as well as bears witness to the fact that he is a follower of Christ, every day carrying his cross in the activity to which he is called. From this aspect, work may be seen as a means of blessing and enlivening the earthly reality with the Spirit of Christ." Relationships among workers in the place of work should be based on generosity, discarding hatred or doing anyone some sort of harm.
Information Service of UGCC Commission on Justice and Peace
PUBLICATIONS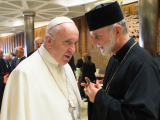 An unprecedented event took place in Rome on July 5-6. Desiring to demonstrate support for the Ukrainian Greek-Catholic Church at a time of...
MEDIA