"Your continuous attempt to bear witness to Christ's Good News is worthy of amazement..." - stated Most Reverend Mgr. Gerard Daucourt, representative of the French Bishops Conference, to UGCC Synod of Bishops
Friday, 12 September 2014, 15:38
Catholics of France are praying for UGCC and all Ukrainian people. We carefully follow the rebirth of the Ukrainian nation and, simultaneously, the severe trials, which have befallen it. In these circumstances, your continuous attempts to bear witness to Christ's Good News are worthy of amazement.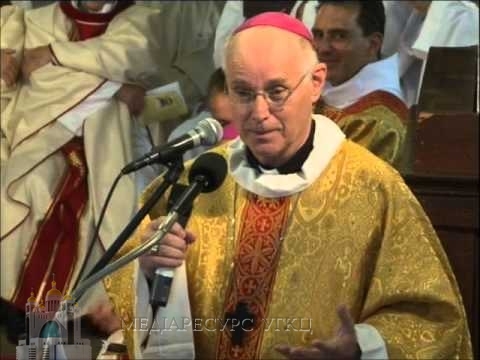 Most Reverend Bishop Mgr. Gerard Daucourt, representative of the French Bishops Conference, stated this on September 8, 2014 during UGCC Synod of Bishops taking place in Lviv.
Bishop Gerard thanked UGCC Head and Father, His Beatitude Sviatoslav for providing objective and accurate information about events in Ukraine, presented in the letter from UGCC Permanent
Synod of Bishops on June 4-5th and in the letter dated August 21st that addressed the general situation of the accusations of the Russian Orthodox Church towards UGCC. "Bishop Borys (Gudziak), a member of UGCC Synod of Bishops and the French Bishops Conference, also continually updated us about the events of the last several months. The affiliation of Bishop Borys to both structures is evidence of the permanent unity of both our Churches," emphasized the bishop. In his remarks the French Bishop-Emeritus also stressed that during the long years of suffering, the Ukrainian people and UGCC showed the whole world that "neither death nor life...neither in the present, the future, or forced … nothing can separate us from the love of God, that is in Jesus Christ, our Lord."
In concluding, he stated that the topic of UGCC Synod of Bishops, "Managing God's Gifts", is very important. It is not enough to simply have gifts. They should be utilized in serving the Lord and our brethern. It is also important that inside the Church, each one acknowledges that s/he needs gifts from other people"
"Today, our prayer, the ever-present readiness for dialogue, opens the path of hope towards the resolution of political and social conflicts. And also towards the possibility that all of Christ's followers can grow in unity, so that the world can believe that the Father sent his Son for the salvation of the world," concluded Bishop Gerard.
UGCC Department of Information
PUBLICATIONS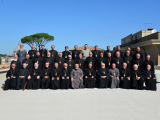 And you shall know the truth, and the truth shall set you free (John 8:32)
MEDIA