Youth from Subcarpathia visited Rome
Thursday, 12 July 2018, 13:58
From June 29 till July 5 members of organization "Ukrainian youth for Christ" from Halych, as well as teachers, doctors and the rest of the faithful went on a pilgrimage to Rome. This kind of pilgrimage has been a dream of Fr. Volodymyr Kuziuk, a spiritual father of an organization and a priest of Nativity of Christ Cathedral, who, actually, put in a lot of efforts to organize this pilgrimage.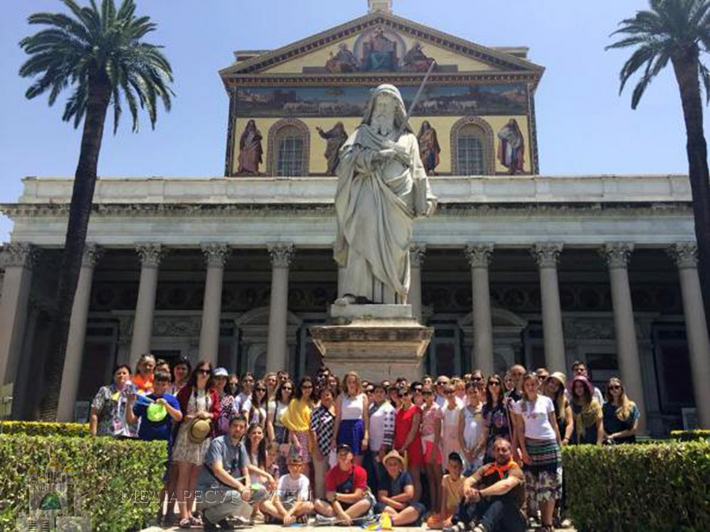 Around 70 pilgrims visited Vienna, Rome, Padova, Venice. Every single day was accompanied with a Liturgy and praying rosary for peace in Ukraine and in the whole world.
The pilgrimage was organized commonly with Youth Commission and Pilgrimage Center of Ivano -Frankivsk Archeparchy of UGCC (head and manager Fr. Ivan Sas). Spiritual accompaniment was provided by Fr. Mykhailo Vikhot', a staff member of the current structure. A guide of a group was Lesia Sova, and Fr. Volodymyr Medvid', who holds services in Cattolica and Pesaro, was the one who helped to organize the group in Italy. Together with pilgrims he also visited Rome, Padova and Venice.
Organizers hope that this pilgrimage will be memorable for everyone who participated in it, hence, beneficial for those who pilgrims would like to share it with.
West office of "Zhyve.TV" by www.ugcc.if.ua
MEDIA