Zarvanytsya was presented at the 10th Congress of the Maria's European Fellowship
Wednesday, 03 October 2012, 13:16
The representatives of 20 Maria's Spiritual Centers of Europe gathered in Rome (Italy), for the period of 18-21 of September, for the 10th jubilee meeting. The theme of this event was - "the Second Vatican Council and the significance of its resolutions in life of the Catholic Church." During the three-day meeting, participants paid particular attention to the discussions of the features of each pilgrimage center, shared their pastoral experience and forged cooperation.
The main conference was headed by the Cardinal Antonio Antonio Maria Vegliò, who is the President of the Pontifical Council for the Pastoral Care of Migrants and Itinerant People. The Archbishop delivered a speech on "Pastoral Areas of pilgrims in the dynamics of the Second Vatican Council."
The jubilee meeting was also attended by the representatives of the five largest global Maria's Spiritual Centers - from Brazil (Aparecida), Mexico (Guadeloupe), Rwanda (Kibeho), Vietnam (La Vank) and India (Vaylankanni). The guests that were invited presented, to all those who attended, the films on their pilgrimage places.
The Maria's Spiritual Center "Zarvanytsia" was represented by Fr. Volodymyr Firman, who is the administrator, and by Fr. Andriy Romankiv, who is the personal delegate of the Archbishop and Metropolitan of Ternopil and Zboriv- Vasyl (Semeniuk). According to Fr. Andriy, next time the delegates of 20 major Spiritual Centers of Europe will gather in Malta, and in 2016- in Zarvanytsia.
Press Service of the Ternopil-Zboriv Archdiocese
PUBLICATIONS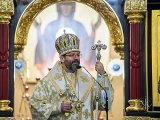 Head of the Ukrainian Greek Catholic Church brings multifaceted experience to project of evangelization.
MEDIA