A priest of Parisian eparchy celebrated Christmas with Ukrainians in United Arab Emirates
Wednesday, 10 January 2018, 15:00
Christmas – is a joyous and solemn holiday, which touches upon our hearts and unites all wherever we may be. The Ukrainian communities in the United Arab Emirates celebrated Christmas this year together with the priest of Parisian eparchy of the UGCC Fr. Ivan Danchevsky.
Celebrations began with the Holy Supper in Abu Dhabi. Having prayed and shared the prosphorus, the Ukrainian community sat to the Holy Supper. They sang carols and watched the play of the Vertep, in which participated both children and adults. There could be heard beautifully performed songs and a famous "Shchedryk". Afterwards, at the Church of St. Teresa, a Great Compline began. A joyful "God is with us" brought tears to the eyes of those who due to various reasons are far away from home.
In the morning on January 7, at the Cathedral of Abu Dhabi, upon the blessing of the ruling Bishop Paolo Hinder, a solemn Divine Liturgy was celebrated. At the end of it, carols were sung again and everyone shared Christmas greetings. Many faithful became partakers of the Body and Blood of Our Savior because there was no Liturgy more than a year there. The faithful were very happy to participate in a prayer of their rite.
In the evening in Dubai, the Ukrainian community gathered in the Church of St. Francis of Assisi for a Divine Liturgy. After the prayer, everyone sang carols, shared their joy and greetings. It is worth mentioning the wonderful trio of women who sang the Mass with angelic voices and with a sincere prayer created a cheerful atmosphere for Christmas holiday. The Ukrainian community in Abu Dhabi and Dubai impresses with their high level of organization and openness. A young man from Bukovyna, Yevhen Semenov, helps in organizing all the events. Together with the community, he earns a good reputation for our people and the whole Ukraine.
PUBLICATIONS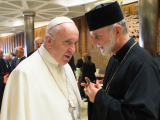 An unprecedented event took place in Rome on July 5-6. Desiring to demonstrate support for the Ukrainian Greek-Catholic Church at a time of...
MEDIA