For the first time, a holy mission took place in Odesa
Tuesday, 31 October 2017, 12:21
An extraordinary event took place in the parish of St. Apostle Andriy Pervozvanny of Odesa. It was the first time that on the territory of the Southern Ukraine a holy mission occurred, which was held by the missionary group of Fathers Redemptorists upon the blessing of Bishop Mykhail.
On October 22, 2017 AD at the doors of the church, the parishioners and fathers of the Church of St. Andriy Pervozvanny met the missionaries and passed them the keys from the church. The solemn opening of the holy mission began during the Sunday Liturgy.
Lectures and discussions held by the head of the missionary group Fr. Vasyl' Linytsia, also by Frs. Petro Kovalchuk and Mykhailo Ivanyak as well as sisters Redemptorists Teresa and Natalia, became a special occasion for deeper learning of the eternal truths of Christ's faith.
Every day after the Morning and evening Liturgies, the missionaries proclaimed thematic lectures: «For God so loved the world» (John, 3, 16); «I am the way and the truth of the life…» (John, 14, 6); «Remain in me, as I also remain in you!» (John, 15, 4) etc. In the church there was an opportunity to partake of the Holy Mystery of Repentance, which was gladly used by an extremely large number of believers. Every day brought something special: there were various lessons for children, married couples, men and women.
On Tuesday the parishioners were able to walk in the Cross procession in the streets of the city, where they meditated about the Passions of Jesus. Next day the Fathers-preachers visited our wounded soldiers in the hospital, affirmed them and prayed for their quick recovery. In the evening, after the Divine Liturgy, there took place the renewal of baptismal vows.
The fifth day of the mission! The street evangelization, during which the missionaries handed out booklets and invited to participate in missions, after the evening Liturgy there took place the renewal of marriage vows. And, of course, on Thursday, we are reading the Holy Scripture, meditate! And glorify God with songs and dances!
The sixth day! The Fathers Redemptorists visited the military part of the ground troops, where they could morally support our soldiers and thank them for their service. On that very day the students of the 5-8th grades of school №39 heard interesting lectures and with surprise listened to the sisters singing to the guitar. The common evening prayer finished with the Prayer service for healing before the relics of Blessed Bishop-Martyr Mykolay Charnetsky and the blessing with holy oil of healing. And certainly, a meeting with the youth and friendly atmosphere brought the sixth day of the mission to the end.
Mission completed! During the three Divine Liturgies the Fathers Redemptorists were proclaiming the final precepts. After the Mass, all present received a small printed icon in memory of holding the holy mission in the parish. Hence the Mission cross was consecrated and placed at the doors of the church.
Press-service of Odesa exarchate
www.ugcc.od.ua
PUBLICATIONS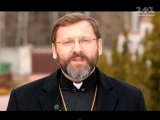 On the 100th Anniversary of the Re-establishment of the Ukrainian State
MEDIA