Head of the UGCC in Vienna: The Lord always sends good pastors to Ukraine, who care of their people
Wednesday, 13 November 2019, 13:12
In every moment of our existence the Lord takes care for us, sending various people as his good pastors, so they care for our people and give their lives and gather them even when they are "merely scattered", said Head and Father of the UGCC His Beatitude Sviatoslav in his homily in St. Varvara Cathedral in Vienna.
Among those who co-served His Beatitude were Volodymyr Hrutsa, bishop - auxiliary of Lviv Archeparchy, Petro Loza, bishop - auxiliary of Sokal and Zhovka Archeparchy, Fr. Yuriy Kolasa, vicar for believers of East Catholic Churches in Austria, Fr. Taras Shahala, the senior priest of St. Varvara Cathedral.
The Major Archbishop mentioned that then, owing to God's awe-inspiring order, they were commemorating St. Josaphat in this ancient church of St. Varvara.
"A good shepherd is a priest or a bishop who care well not of himself, not of his own benefit and does not use "sheep" for his better life. Apparently not. A good shepherd is the one who cares for his sheep. He considers them his most precious gift. He goes and looks for that sheep, rejoicing when he finds it and leads to the flock, where he can stay with it and serve".
Head of the UGCC told that St. Josaphat was used to be called "a soul grabber", doing everything to find God his people, so there is one shepherd and one flock – Christ's Church.
St.Varvara Church has always been a shelter for holy relics of St. Josaphat. "That is why, a holiday we are celebrating today according to a new style is especially dear for this church and community. I recall a moment, when we were celebrating 100th anniversary of the transfer of St. Josaphat relics to Vienna, which later after the II World War were secretly passed to Rome, where now they are kept near the tomb of Apostle Peter ".
Head of the Church also reminded that today in the antique church of St. Stephan we commemorate with a solemn requiem those who died from Stalin's Holodomor of 1932 - 1933.
Today we also express our gratitude to the representatives of Austrian community who were united with our brothers and sisters who were starving to death. Especially we remember Austrian cardinal Theodor Innizter, who was the first and only from all church leaders in Europe who responded to a letter of metropolitan Andrey Sheptytskyy entitled "Ukraine in near-death seizures". Then the cardinal set up here in Vienna an international campaign of helping those who were dying from starvation. He wrote an appeal letter to the world's society about offenses being committed against Ukrainians.
"May God be merciful to our people. We want our Church accomplish its vocation, so every priest and bishop be an image of a good shepherd, and you, here in Vienna, feel that Church patronizes you", said the Major Archbishop at the end.
The UGCC Development for Information
PUBLICATIONS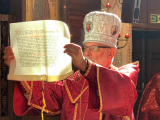 TO OUR BELOVED BROTHER IN CHRIST Most Reverend Bishop Kenneth Anthony Adam Nowakowski
MEDIA