Head of the UGCC: It is in the figure of the Virgin Mary that every woman can discover the fullness of her vocation to be a woman
Sunday, 10 January 2021, 19:59
Blessed are those children who have a father and a mother. No one can replace the parents of a child who needs a space of love and humanity. This opinion was expressed by Father and Head of the Ukrainian Greek Catholic Church His Beatitude Sviatoslav during a sermon to the faithful in the Patriarchal Cathedral of the Resurrection of Christ on the second day of Christmas.
According to the preacher, on the second day of this Christmas mystery, we are invited to look at the basic cell of human society, the space of warmth and care in which our Lord and Savior was born. Today we celebrate the Feast of the Synaxis (Sobor) of the Theotokos. And our eyes are focused primarily on the figure of the Blessed Virgin Mary, the Mother of God.
"Contemplating the figure of the Virgin Mary today," the spiritual leader said, "we thank God and the Creator for the gift of the Mother of God. It is in the figure of the Virgin Mary that every woman of all times and peoples can discover for herself the fullness of her vocation to be a woman."
"The Holy Family is an example of the first school of true human relations," said His Beatitude Sviatoslav, adding: "It is not without reason that in the current circumstances of the pandemic, Holy Father Francis declared 2021 the Year of St. Joseph."
Pope Francis has also declared 2021 the Year of the Family. "He seems to invite all of us to rediscover the value of marriage as a fruitful inseparable unity in love between man and woman. Perhaps it is only now that we are beginning to understand more and more deeply God's gift of the family to mankind, the gift of fatherhood and the gift of motherhood. We see that this year, which was marked by the pandemic, the family was the environment where most people could overcome this invisible virus," said the Primate.
Therefore, on this second day of the Christmas holidays, the Head of the Church called to pray for Ukrainian families who are going through difficult times, deep trials. According to him, one of the internal enemies of the family is domestic violence. Statistics say that during strict quarantine, the level of violence increases exponentially.
His Beatitude Sviatoslav also called to pray for our girls and boys who are afraid to start a family today. "We pray that in all our communities and parishes we will never run out of children's laughter because this is one of the ways in which children glorify the newborn Savior. May the Holy Family be an example for us to follow," the Head of the UGCC wished.
The UGCC Department for Information
PUBLICATIONS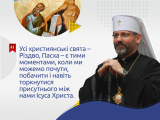 All the richness of the Christian life, our feasts, our Divine Liturgy are an opportunity to experience the events that the apostles went...
MEDIA