His Beatitude Sviatoslav shared Holy Supper with the families of deceased soldiers
Sunday, 07 January 2018, 23:08
Jan 6, 2018 on the Eve of Nativity of Christ Our Lord His Beatitude Sviatoslav shared a meal with families of deceased soldiers, who arrived from different parts of Ukraine to join a common Christmas Eve at Patriarchal Cathedral of Resurrection of Jesus Christ.
Together with His Beatitude Sviatoslav the supper was joined by bishop-auxiliary of Kyiv Archeparchy bishop Josef Milyan, Andriy Vaskovych, president of "Caritas Ukraine", Fr. Roman Syrotych, principal of "Caritas Kyiv", head of UGCC Department for Chaplaincy, Fr. Lyubomyr Yavorskyi.
More than 100 people took part in this evening. It was organized by the Department of Chaplaincy and "Caritas Kyiv".
Before starting a dinner all the present ones prayed Panakhyda for deceased soldiers.
The Holy Supper started with a common prayer and greeting word of His Beatitude Sviatoslav who expressed an enormous joy for having an opportunity on the Eve of Nativity to be present there. "This year for the first time I wanted to sing carols with those, who, probably, might have the roughest times – families of the deceased soldiers, who gave their lives for freedom of Ukraine. These are mothers, parents, wives, children of those warriors who are no longer with us", said His Beatitude Sviatoslav.
After sharing Christmas prosphora with everyone, Head of Church wished all the present happy holidays with giving his blessings.
As usual, Holy Supper consisted of traditional dishes: kutia, varenyky, borsch, fish and holubtsi, mushroom meals. Everything was accompanied by loud and jubilant carols.
Christmas Eve was especially elevated by band "Ukrayinski Barvy" (Ukrainian Colors) and choir of Patriarchal Cathedral, who, with their beautiful carols glorified a Newborn Christ. Special thanks go to Oksana Stebelska, who managed the feast in an excellent way.
By the meeting was finished, His Beatitude Sviatoslav presented personally everyone a rosary and some gifts.
"We would like to thank all people of a good will who contributed to this Holy Supper be prepared. We thank the volunteers and workers of Caritas, Department for Military Chaplaincy, Knights of Columbus, "Ukrainian Colors" band, choir of Patriarchal Cathedral and everyone who helped to execute this celebration. Owing to this kind of event, families of the deceased soldiers can feel that there is someone who is ready to support them, who don't stay indifferent to their grief", the organizers point out.
Press service of "Caritas Kyiv"
PUBLICATIONS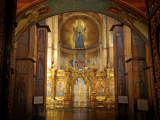 Dear brothers and sisters in Christ! Throughout our millennial history, our Church and our people have fully experienced in their bodies the...
MEDIA