His Beatitude Sviatoslav visited one of the oldest abbeys in Austria
Wednesday, 13 November 2019, 20:06
During his visit to Austria, His Beatitude Sviatoslav, Father and Head of the UGCC, visited the Klosterneuburg Abbey, which was founded at the beginning of the 12th century by St. Leopold III, the patron saint of Austria. On the journey, the Head of the UGCC was accompanied by Fr. Yuriy Kolasa, Vicar for the faithful of Eastern Catholic Churches in Austria, and Fr. Taras Shagala, parish priest of St. Barbara Parish in Vienna.
His Beatitude Sviatoslav was greeted by the abbot of the monastery Bengard Bakovsky, Fr. Canon Daniel Nash, and Fr. Roman Krykora, a parish priest of a local Roman Catholic parish. Fr. Daniel showed the guests the monastery premises, temple and the chapel of St. Leopold, where his relics are stored, as well as the Verdun altar of the fourteenth century.
In his talk with the abbot, the Head of the UGCC spoke about the war in Ukraine, which almost daily updates his list of killed and wounded. He shared his impressions of a recent visit to a military hospital in Kyiv, where hundreds of soldiers are healing their wounds.
"I ask you to pray for Ukraine, for the cessation of military aggression, so that young boys are not killed or injured," asked His Beatitude Sviatoslav. The abbot assured him that he and his fellow brothers would pray for peace in Ukraine.
In memory of the meeting, the UGCC Primate gave him a special representational edition about the UGCC. "I asked you to pray for Ukraine. In this book you can see the faces of those for whom you will pray," said His Beatitude Sviatoslav.
The UGCC Department for Information
PUBLICATIONS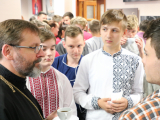 Today, more than ever, is the time for your boldest dreams: to tame the universe, to find a cure for cancer, to conquer epidemics, to build a just...
MEDIA