I feel that God has saved you for some special mission, His Beatitude Sviatoslav said to Ihor Kozlovsky
Friday, 12 January 2018, 22:32
I understood that people love me not only with their words but also with action. His Beatitude Sviatoslav and representatives of other Churches together with civic organizations and even ordinary people took great efforts to release me from captivity.
And what was the principal motivation for their endeavor?... Love! This is exactly what we breathe with and should live by.
Such words said the famous Ukrainian researcher and religious expert Ihor Kozlovsky after the meeting with His Beatitude Sviatoslav, the Father and Head of the UGCC. Mr. Kozlovsky had spent almost two years in prison of the so called DNR. For a long time he had not been included in the lists for exchange. But finally, just before the New Year, a long-awaited release of Ihor Kozlovsky and many other our prisoners eventually took place. Today he came in order to personally thank His Beatitude Sviatoslav for the support he had received while in captivity and for all the efforts made for the sake of his release.
The meeting of His Beatitude Sviatoslav with Mr. Kozlovsky took place on January 12 in the residence of the Head of the UGCC in Kyiv.
"I feel that the Lord has saved your life for some special mission," said the Primate at the beginning of the meeting. In response the academician confirmed that he himself had been thinking about this. "I believe that my task today – is to pass down my experience. For, if you have got through pain, abuse, and humiliations, you have to share the lessons learned," explained Mr. Ihor Kozlovsky.
The Head of the Church offered Ihor Kozlovsky to start a new project which would show how religion and religious belief can be brutally used for serving political ends .
"We must reveal various means and attempts to instrumentalize the Church. We see those attempts not only on the occupied territories of Donbas but here as well. Nowadays the Church has a high level of confidence, which state institutions, unfortunately, do not have. We see two threats: on the one hand, desire to use the Church for one's own political goals, and on the other – discredit it," said His Beatitude Sviatoslav.
He told that the UGCC prepared special guidelines for priests about how to behave during a pre-election campaign in order not to be used. Another document: "About political activities of laymen." "Clergymen cannot be involved in politics but diligent, morally mature laymen must go into politics," explained the Primate of the UGCC.
At the end of the , His Beatitude Sviatoslav presented Ihor Kozlovsky with a "Medal of His Beatitude Lubomyr," which was accepted with excitement and gratitude. Also, the sides agreed about further similar meetings.
The UGCC Department for Information
PUBLICATIONS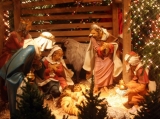 Christ is Born! "Today Christ is Born of the Virgin in Bethlehem. Today, the eternal One has a beginning, today the Word becomes...
MEDIA