"One cannot touch God with one's hand, but one can hear Him," His Beatitude Sviatoslav in Hoshiv
Tuesday, 06 August 2013, 18:49
On August 5, 2013, UGCC Head His Beatitude Sviatoslav visited the Basilian Monastery on Yasna Hora. The visit took place on the occasion of the 276th anniversary of the transfer of the miraculous icon of the Holy Mother of God to Hoshiv.
A Pontifical Divine Liturgy, led by the Primate of the Church, was concelebrated with Bishop Volodymyr (Viytyshyn), Archbishop and Metropolitan of Ivano-Frankivsk, Bishop Taras (Senkiv), Apostolic Administrator of Stryi Eparchy, and numerous priests.
"Faith through listening demands obedience of faith from every faithful person," emphasized in his sermon the UGCC Church Head. In speaking to several thousand pilgrims, UGCC Primate explained: that to which we listen, is taken in by us and changes us. "If we listen to evil, it begins in us the process of dying and engenders a spiritual vacuum. When we listen to God – then we accept Life and live in eternal life," explained the preacher.
"Maria appeals to us, that we be obedient to God. Very many voices hammer at our ears. How many numerous new "messiahs" claim that they bear the truth! How many modern manipulators of community opinion and political technologists attempt to trick us, how many false prophets today attempt to take the place of the voice of the Church!" said His Beatitude Sviatoslav in encouraging the faithful to take example from the humble behavior of the Blessed Virgin.
In conclusion UGCC Head said that today "Almighty God talks to each one of us through the Blessed Virgin Maria and urges our people to preserve their faith."
UGCC Department of Information
PUBLICATIONS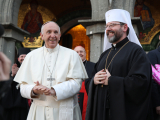 ROME - As the Catholic Church's Synod of Bishops in Rome was meeting on Oct. 11, it was another synod across the Aegean Sea in Turkey that sent...
MEDIA