Priests of the London Ukrainian Catholic Eparchy of the Holy Family have taken part in their annual retreat
Friday, 25 May 2018, 10:27
Priests of the London Ukrainian Catholic Eparchy of the Holy Family have taken part in their annual retreat 21st – 24th May 2018 at the Benedictine monastery of Belmont Abbey in Hereford. The retreat was led by the Eparch, Bishop Hilb Lonchyna, who based his lessons on the latest letter of Pope Francis, Gaudete et exsultate – Rejoice and be Glad, an Apostolic Exhortation on the call to holiness in today's world. Holiness is the most important matter of our lives, and is that which unites us with eternity, for mankind is called to sainthood, that is, to be with God, to seek the Lord, "to be a real person", as often repeated by the late Patriarch Lubomyr.
Twelve priests have taken part this year. Two lessons and a homily were delivered daily. Apart from the Divine Liturgy, the fathers served together the 6th hour and vespers from the Divine Office.
Evening sessions were held to familiarise the priests with new European legislation regarding General Data Protection Regulation, which came into force on 25th May, and to discuss various parochial and eparchial issues.
Following the Divine Liturgy on Tuesday 22nd May, Bishop Hlib presented Fr Yaroslav Riy with a Certificate of Thanks for the Halifax Parish of "Pokrova" (Holy Patronage) (who are selling their church property), for gifting their iconostasis to the parish of St Volodymyr in Coventry.
As every year, the priests accompanied their bishop to the monastic cemetery, the burial site of Dom Dyfrig Harris osb (1948-2012), who often visited our Gloucester parish and was a true friend of our clergy and faithful. Here the fathers sang the Panachyda remembrance service for the late Fr Dyfrig and others buried there.
After the retreat a Clergy Meeting ("Soborchyk") was held on Friday.
Department of Information of the UGCC
PUBLICATIONS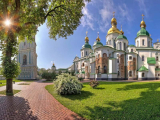 Below, is a translation of a text sharing the views of the Head of the UGCC Commission on Ecumenical and Interreligious Affairs, Rev. Ihor...
MEDIA