Thanks to your wounds Ukrainians can live peacefully, His Beatitude Sviatoslav visited a military hospital in Kyiv
Wednesday, 06 November 2019, 16:26
On Tuesday, November 5, 2019, His Beatitude Sviatoslav, Father and Head of the UGCC, visited the National Military Medical Clinical Center (16, Hospitalna str., Kyiv). The Head of the Church once again wanted to declare that the chaplain's primary purpose was to be close by.
"Ukrainians who live in a territory free of military aggression should understand that because of your wounds, they can live peacefully. I wanted to come today to draw attention to you, your needs, your sufferings," said the UGCC Primate to the wounded soldiers.
The Head of the UGCC awarded the hospital authorities, as well as the heads of departments who directly care for the soldiers. And they in return thanked the Head of the UGCC for the chaplains who assisted the military in the ATO / OOS area and in the hospitals. In addition, His Beatitude Sviatoslav expressed his support for the military men and gave them commemorative gifts.
"With this visit, I wanted to express our respect for those fighters and doctors who are now doing everything to ensure that Ukraine is protected," said His Beatitude Sviatoslav.
"The Ukrainian Greek Catholic Church assists the military not only spiritually but also financially. The Primate was in different hospitals, including in the East of Ukraine, but he came to us for the first time," said the UGCC military chaplain, Father Vitaliy Voyetsa, who together with Fr. Andriy Zelinsky, deputy head of the UGCC Military Chaplaincy Department, accompanied His Beatitude Sviatoslav on this visit.
"When we hear the word 'military chaplain', it is first and foremost about Greek Catholics. Their military chaplains were with us from the first to the last day, and did not do only the tasks that were assigned to them, but also helped us in our work like, for instance, installing tents or carrying weights. However, this did not allow us to skip the Vespers, which they held constantly," said Olexander Tsyts, Deputy Head of the National Military Medical Clinical Center.
Photo: Roman Malko
The UGCC Department for Information
PUBLICATIONS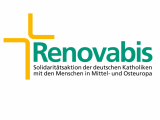 From 13 to 19 May, the Father and Head of the Ukrainian Greek Catholic Church (UGCC), His Beatitude Sviatoslav, was to visit Germany at the...
MEDIA