The Head of the UGCC: "We all need to know how to explain our faith to a modern person"
Thursday, 16 November 2017, 13:31
On November 14, His Beatitude Sviatoslav held an open lecture on the topic of patristic heritage in the life of the Church at the Kyiv Triokhsviatytelska Spiritual Seminary of the UGCC.
During the meeting, His Beatitude Sviatoslav told about the criteria of defining the "Fathers of Church"– those whom the Church venerated as their spiritual guides. For they led holy lives, possessed true knowledge and were recognized both by their church communities and by the ancientness.
At the beginning of the lecture, the Primate of the UGCC told about the main sources of patristic literature, which are available in the seminary's library, and about the other manuals, which aim at helping theologians learn the patristic heritage.
During the lecture, the Head of the UGCC recalled the slogan: "Forward to the Fathers!" which was firstly proclaimed in 1937 by the archpriest Georgiy Forovsky in his book "Ways of the Russian Theology". "Forward to the Fathers!" – means that we all have to become mature enough to know how to pass our faith to a modern person in the engaging, comprehensive, but also orthodox and correct way, so he could understand and accept it," emphasized the lecturer.
It is known that the Christ's Church has the Holy Scripture and Holy Tradition as its foundation and principle that is why there is a special theologian discipline – Patrology and Patristics – which studies the cultural-philosophic contribution of the Fathers of Church into the Christian tradition.
Besides, His Beatitude Sviatoslav called on the seminarians to be interested in patristic studies and expressed the wish of development of their theologian researches in this sphere. He also presented to the Seminary a number of very important books – "instruments", which enable a better understanding of the heritage of the Fathers of Church.
We would like to add that after the open lecture, His Beatitude Svitoslav led Compline at the seminarian church of Holy Trinity.
PUBLICATIONS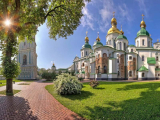 Below, is a translation of a text sharing the views of the Head of the UGCC Commission on Ecumenical and Interreligious Affairs, Rev. Ihor...
MEDIA