The Heads of the UGCC and the OCU jointly prayed a memorial service for the victims of the Holodomor
Sunday, 29 November 2020, 14:30
On November 28, His Beatitude Sviatoslav, Primate of the UGCC, and His Beatitude Epiphaniy, Primate of the Ukrainian Orthodox Church, together with bishops and priests, prayed a memorial service for the victims of the Holodomor, the genocide of the Ukrainian people. Memorial services were held in Kyiv, on the territory of the National Museum of the Holodomor-Genocide, near the sign "Candle of Memory."
After the prayer, the recording was played with the words of the President of Ukraine Volodymyr Zelensky, who noted that every last Saturday of November a terrible guest comes to our hearts - a memory of the crimes that took the lives of millions of Ukrainians. "We honor our ancestors and remember the black pages of our nation's history. How can one even think of destroying the entire nation? Why and for what? We will never be able to understand, forget and forgive this," emphasized the Head of State.
Then a nationwide minute of silence was declared, after which the All-Ukrainian Initiative "Light a Candle" began. The Primates of the Churches and all the participants of the common prayer also joined the action, lighting their candle of remembrance.
As we have reported earlier, in his speech on the Holodomor Remembrance Day, His Beatitude Sviatoslav observed that on yet another anniversary of this tragedy and we tell ourselves and the world: we remember, the world recognizes. The Head of the UGCC called to remember the pain, but also to act. "Let us feed the hungry so that no one dies of hunger in our time. Remembering these tragic events, let's say to ourselves and the world: never again!"
The UGCC Department for Information,
photo: Oleksandr Savransky
PUBLICATIONS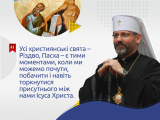 All the richness of the Christian life, our feasts, our Divine Liturgy are an opportunity to experience the events that the apostles went...
MEDIA