The Xth jubilee Prosphora with Patriarch: His Beatitude Lubomyr granted us sharing joy among ourselves
Tuesday, 23 January 2018, 20:59
Today we must remember His Beatitude Lubomyr, who presented "Prosphora" to us.
He passed this holiday to us as a great tradition of building a cathedral. This was said by the Father and Head of the Ukrainian Greek Catholic Church His Beatitude Sviatoslav during the Хth jubilee Christmas "Prosphora with Patriarch", which took place in Kyiv on January 20, 2018 AD.
At the Christmas Prosphora initiated by blessed memory His Beatitude Lubomyr ten years ago, traditionally the money needed for building the Patriarchal Cathedral was collected. Also, the faithful could meet together and sing carols.
This year, together with the Head of the UGCC and donators, the Veryovka National Choir was singing.
In his word His Beatitude Sviatoslav greeted the guests with the great holiday of Christmas — holiday of God's presence among us. "When we look at the mystery of Nativity, we see the heaven on earth, and earth raised to the heaven. We see God in a man and a man in God," said the Head of the UGCC.
It is a Ukrainian tradition, noted the host of the evening, that the holiday of Christmas goes on for the whole season. Before we begin the Supper, and bless the prosphora, we always recall how we have lived in the previous year, and commemorate those whom the Lord has called to Himself in that year: our relatives, dear ones, friends. We commemorate perished defenders of our Motherland, all those, who gave their lives for the free, independent Ukrainian State.
"Today we have to remember His Beautitude Lubomyr, who presented this "Prosphora" to us. First of all, it is a fundraising action, when we collect donations for finishing the construction of the Patriarchal cathedral. But this is also a chance to see each other. And for me - an occasion to greet each of you personally with Christmas holidays," said His Beatitude Sviatoslav.
Also, we remember all those who cannot celebrate this Christmas in peace like us. Those who are in captivity, on occupied territories suffering from abuse and humiliations.
The Head of the Church offered his warm greetings to Ihor Kozlovsky, for whose release from captivity the UGCC was praying.
"We would like to recall all the blessings which we received from the Lord in the previous year. And thank Him that we have lived for this day. And we ask our merciful Savior that we can meet again next year, rejoicing in the newborn Messiah," wished the Head of the Church to all and everyone.
Finally his Beatitude thanked the Veryovka Academic Choir for enriching and brightening the holiday.
Photos from the pages of the participants of the holiday on social networks
The UGCC Department for Information
PUBLICATIONS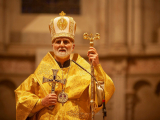 TUESDAY, JUNE 4 DURING HIERARCHIAL DIVINE LITURGY AT THE UKRAINIAN CATHOLIC CATHEDRAL IN PHILADELPHIA OVER 50 BISHOPS, WILL PARTICIPATE...
MEDIA