To be a human. 85th birthday anniversary of Lubomyr Huzar was celebrated in Kyiv
Monday, 26 February 2018, 19:11
The 85th birthday anniversary of His Beatitude Lubomyr Huzar was celebrated in Patriarchal cathedral of the Resurrection of Christ.
February 26 is the day when 85 years passed since he was born.
In the crypt where he is buried Head and Father of Ukrainian Greek Catholic Church His Beatitude Sviatoslav led Panakhyda, praying for his soul.
Later in the evening was held a spiritual memorial evening called "A dream came true".
The presenters with musical accompaniment were telling the story of His Beatitude Lubomyr's life, emerging from his own memories, as well as the story of his family.
The organizers of the evening became a community called "Generation of Lubomyr", the participants of which wear a decoration in a form of heart.
"I recall, - Head of Church said, - when we were saying good-bye to His Beatitude Lubomyr here in this cathedral almost a year ago. We were saying to him: "our dear father, we love you, and love this is something eternal. Thus, today saying good-bye to you, we don't completely let you go, as we know we will be meeting you". Today's memorial evening is nothing else but a fulfilment of words "love is eternal". And that's why our respect and memory has to be the same to our father His Beatitude Lubomyr".
"I remember when His Beatitude was once asked to say something to wealthy people. His respond was simple: "I wish them to visit funerals oftentimes". We can say that those who come to a place where His Beatitude Lubomyr is buried – become truly rich, since in his person they find an eternal wisdom, humanity and kindness".
"I assume, - the spiritual leader of Greek Catholics says, - that all of us feel that this evening we've become richer. Mainly because of this we could dig up from that treasury of spirituality, wisdom and loyalty of His Beatitude Lubomyr, listening to the story of his life, as advice left to us in Patriarchal Cathedral, when we were celebrating his anniversary of his archbishop's service".
Head of UGCC reminded how much His Beatitude Lubomyr loved young people. "All his jubilees he wished to spend precisely with adolescents. I remember the times I was a vice-rector of Lviv Holy Spirit Seminary. We came to Kyiv to celebrate his 75th anniversary. The celebration was very festive. I was impressed by his words: "All of you congratulate so beautifully… But, you know? I am an old man and have a right to be odd. I don't want to celebrate my jubilee with you but with young generation". I thank all of you because I don't see here any old people. The only young people are present here, and no matter how old you are today. His Beatitude Lubomyr is glad to see us all here", said Head of Church.
Especially, the Major Archbishop thanked "Generation of Lubomyr". "You cherish not only the memory of Lubomyr, furthermore, you virtually implement in life everything what he lived by. I know that for your own slogan you took his words "To be a human".
Archbishop mentioned that all close-related co-workers of His Beatitude Lubomyr know that when some event had occurred in Church, particularly where he participated in, he always asked himself: "In what way, things I'm doing now might help us to become better?"
"On behalf of His Beatitude Lubomyr I'd love to wish us all to become better, being through this celebration, this meeting and experiencing once again this feeling of gratitude and love to him. That's when our Church becomes better, our people and our Ukraine", Head of UGCC assured.
"Your Beatitude, we know you hear us. We congratulate you on your birthday. We want to be with you and become better. Let it be so", said His Beatitude Sviatoslav at the end.
The UGCC Department for Information
PUBLICATIONS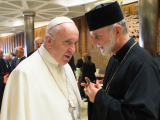 An unprecedented event took place in Rome on July 5-6. Desiring to demonstrate support for the Ukrainian Greek-Catholic Church at a time of...
MEDIA