Bishop Bohdan (Dziurakh) accompanies spiritual pilgrimage to the Holy Land
ANNOUNCEMENTTuesday, 19 November 2013, 12:11
From 23 to 30 December a pilgrimage to the Holy Land, which is headed by Bishop Bohdan ( Dziurakh ), the Bishop of Curia of the Major Archbishop of the Ukrainian Greek Catholic Church, the Secretary of the Synod of Bishops, will take place.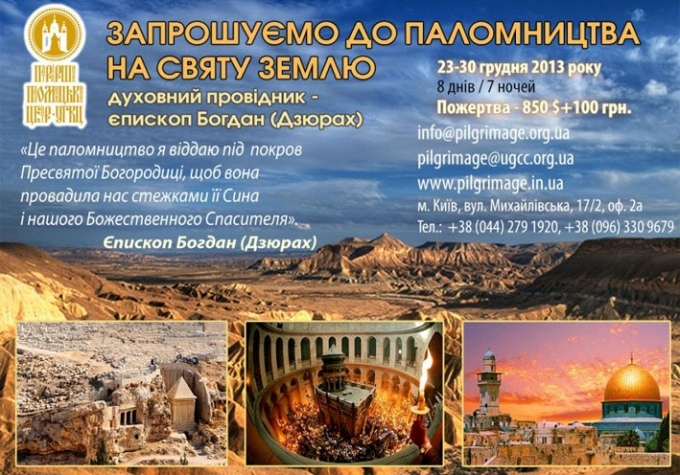 During the pilgrimage under the guidance of Bishop Bohdan pilgrims visit the places where our Savior - Jesus Christ preached and performed miracles during his earthly life: Nazareth, Galilee, Bethlehem and Jerusalem.
"For Christ's disciples the meeting with the Lord in prayer and in the Eucharist is a moment of renewal , purification and sanctification. Staying on a piece of land that is called saint is such a moment for us. Taking into consideration that the Savior had spent years of his earthly life here, the pilgrimage is a unique moment of physical intimacy with the Lord, - the Bishop Bohdan admited. - I hope that visiting the holy places will help us to bring Gospel close by the light of God's Word and let of the living presence of the Lord enter our heart."
"I give this pilgrimage under the patronage of the Blessed Virgin Mary to lead us the paths of Her Son and our Divine Savior ," - said the bishop to pilgrims to the Holy Land encouraging their spirit.
Pilgrimage to the Holy Land is organized by the Patriarchal Pilgrimage Center , which operates with the blessing of Head of the UGCC His Beatitude Sviatoslav (Shevchuk ).
Solomia Shchur, the press secretary of the Patriarchal Pilgrimage Center
PUBLICATIONS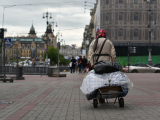 Pastoral Letter of the Synod of Bishops of the Ukrainian Greek-Catholic Church of 2020 to the clergy, religious, and laity...
MEDIA