His Beatitude Sviatoslav will lead All-Ukrainian Patriarchal Pilgrimage to the Halych miraculous icon of the Mother of God
ANNOUNCEMENTSunday, 06 August 2017, 13:07
On August 5–6, in the village of Krylos (ancient Halych), the All-Ukrainian Patriarchal Pilgrimage to the Halych miraculous icon of the Mother of God, patroness of Galician land, will take place, which will be led by His Beatitude Sviatoslav, the Head and Father of the UGCC. The pilgrimage is devoted to the 100-th jubilee of revelations of the Mother of God in Fatima (Portugal).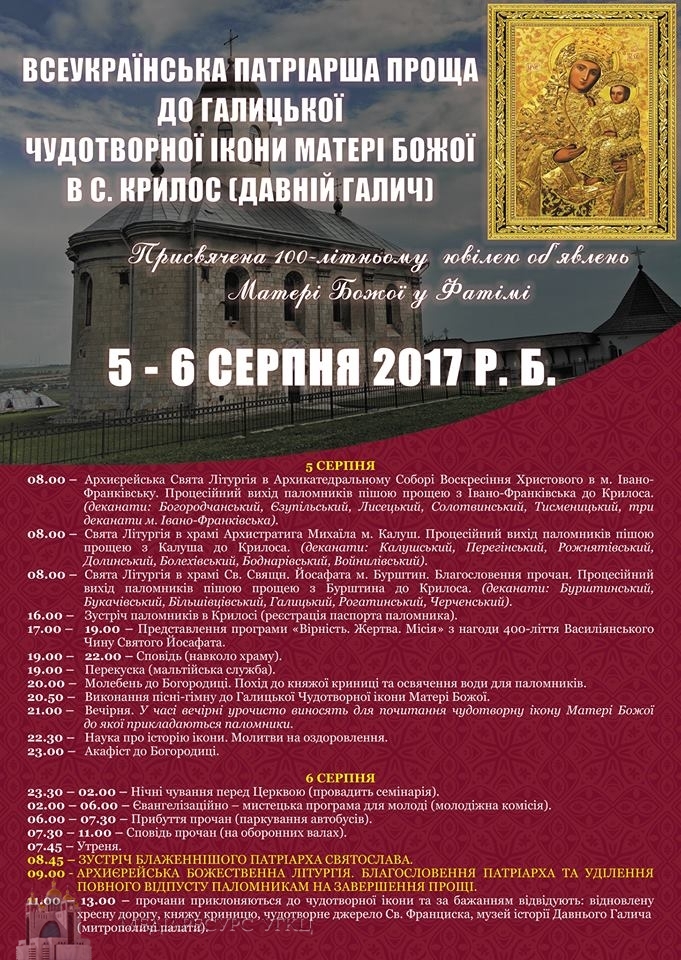 In the program of the pilgrimage a traditional walking in a procession from Ivano-Frankivsk, Kalush and Burshtyn is planned. In those three towns on Saturday, August 5, at the same time - 8:00, the Divine Liturgy and blessing of the pilgrims before setting off will begin. Among the events of this year's pilgrimage there is a presentation of the program "Faithfulness. Sacrifice. Mission" on the occasion of the 400-th anniversary of Basilian order of St Josaphat, solemn demonstration for veneration of the miraculous icon of the Mother of God, prayers for healing. Besides, there will also be night vigils, held by seminarians, and after that  – evangelism-artistic program for the youth.
The culmination of the prayers will become the Hierarchical Divine Liturgy headed by His Beatitude Sviatoslav on Sunday at 9:00 am.
Press-service of Ivano-Frankivsk Archeparchy of the UGCC 
MEDIA