Moleben Prayer and Healing Service to be held in the Ukrainian Catholic Cathedral in Philadelphia
ANNOUNCEMENTSunday, 22 March 2015, 14:02
A Special Moleben Prayer and Healing Service before a Relic of Blessed Bishop-Martyr Mykola Charnetsky, CSsR will be held Sunday, March 22 at 4:00 pm in the Ukrainian Catholic Cathedral in Philadelphia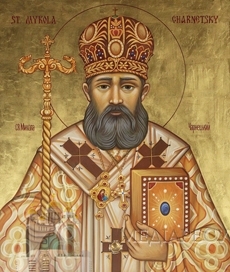 On Sunday, March 22 at 4 p.m. a special moleben prayer and healing service before a relic of Blessed Bishop Martyr Mykola Charnetsky, CSSR, will be led by Metropolitan-Archbishop Stefan Soroka at the golden domed Ukrainian Catholic Cathedral of the Immaculate Conception, 830 North Franklin Street, Philadelphia, Pa. Metropolitan Soroka will also bless a newly commissioned icon of Blessed Bishop Charnetsky, which will be available with the relic for prayer and veneration. During the service the faithful will be anointed with the holy oil of healing. Blessed Bishop-Martyr Charnetsky, known as "the healer of souls" was beatified by St. John Paul II on June 27, 2001 in Lviv, Ukraine.
Many personal testimonies are recorded of miraculous healings through his intercession. All the faithful are invited and encouraged to attend these services and to bring their intentions for healing through the intercession of Blessed Bishop Mykola. Blessed Mykola, born on September 14, 1884 in the village of Semakivtsi, Ivano-Frankivsk, Ukraine, was ordained to the priesthood in 1909, and earning a doctorate in dogmatic theology from Rome, he was appointed spiritual director and professor at the seminary in Ivano-Frankivsk. In 1919, he entered the novitiate of the Redemptorist Fathers in Lviv and in 1926 was appointed apostolic visitator for Ukrainian Catholics in Volyn, Polissia, Kholm and Pidliahsia. He zealously worked for the union of the Holy Church. On February 2, 1931, he was ordained to the episcopacy by Bishop Hryhorii Khomyshyn. He was arrested by the NKVD, the secret police of Josef Stalin on April 11, 1945 and sentenced to six years of hard labor in Siberia. According to official records, he underwent 600 hour of interrogation and torture and spent time in 30 different prisons and camps. Terminally ill, in 1956, he was permitted to return to western Ukraine, where he secretly continued to fulfill his episcopal obligations in underground church of the catacombs. In the midst of the cruelty and oppression which he suffered in imprisonment and in exile, he was distinguished for his evangelical patience, gentleness and limitless goodness and holiness. During his lifetime he was considered by the faithful, a holy man. As a consequence of his sufferings, he died a martyr for the faith on April 2, 1959 in Lviv, and is known as "the healer of souls' by the faithful.
Press-service of the Ukrainian Catholic Archeparchy of Philadelphia
PUBLICATIONS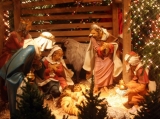 Christ is Born! "Today Christ is Born of the Virgin in Bethlehem. Today, the eternal One has a beginning, today the Word becomes...
MEDIA