Pope Francis visits Ukrainian Cathedral of St. Sophia in Rome
ANNOUNCEMENTSunday, 28 January 2018, 20:01
January 28, 2018 His Holiness Pope Francis is visiting St. Sophia's Pro-cathedral in Rome and meeting Ukrainian migrants in Italy. This visit of Pope Francis is held on the invitation of His Beatitude Sviatoslav, Head and Father of UGCC.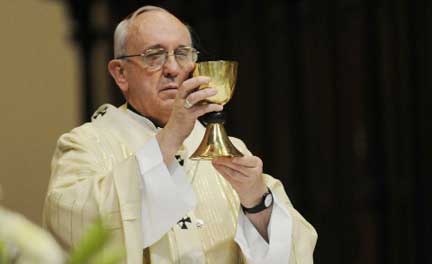 Pope arrives at the Cathedral at 4pm where he is met by Head of our Church and the parishioners with singing carols. Shortly, Pope Francis will pray in the crypt at the tomb of bishop Stepan Chmil, his teacher at an elementary school in Buenos Aires (Argentina).
"The visit of Pope Francis has a historical significance: for few decades this church has been the main cathedral of our Church and became a symbol of its rebirth. Meeting of Pope Francis with Ukrainian migrants is a sign of his pastoral care and manifestation of solidarity with Ukrainian people, who have been suffering from the war in Donbas for few years", His Beatitude Sviatoslav assumes.
By adding to this we'd like to say that St. Sophia's Cathedral was built in 1969 according to the will of patriarch Josef Slipyi, and in 1985 Pope John Paul II gave it a title of a titular church. In the crypt, besides different burials there is a tomb of bishop Stepan Chmil, one of the closest assistants of patriarch Josef Slipyi, as well as a person close to Pope Francis. Fr. Stepan arrived in Argentina in 1948 as the first Ukrainian Salesian priest of Eastern rite. Among students who were studying there was a little boy called Jorge Mario Bergoglio (Pope Francis). His Holiness mentioned reputedly that this Ukrainian priest in a due time influenced him greatly, precisely teaching to pray a "different Liturgy" and telling much about Ukraine and persecution of UGCC in Soviet times.
St. Sophia's Cathedral is an important spiritual and cultural cell for Ukrainians. Ukrainians in Italy is the fifth ethnic community. In different regions of Italy there are nearly 145 Greek Catholic chaplain's bases with 62 priests.
Secretariat of Head of UGCC in Rome
PUBLICATIONS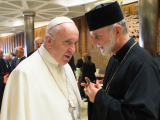 An unprecedented event took place in Rome on July 5-6. Desiring to demonstrate support for the Ukrainian Greek-Catholic Church at a time of...
MEDIA