A report of His Beatitude Sviatoslav during the XVI General Assembly of the Synod of Bishops on topic "A vocation and mission in a Church and modern world"
Wednesday, 07 October 2015, 17:43
In Ukraine a modern family is marked with difficulties of a post-soviet society, going through a rapid social-cultural emancipation.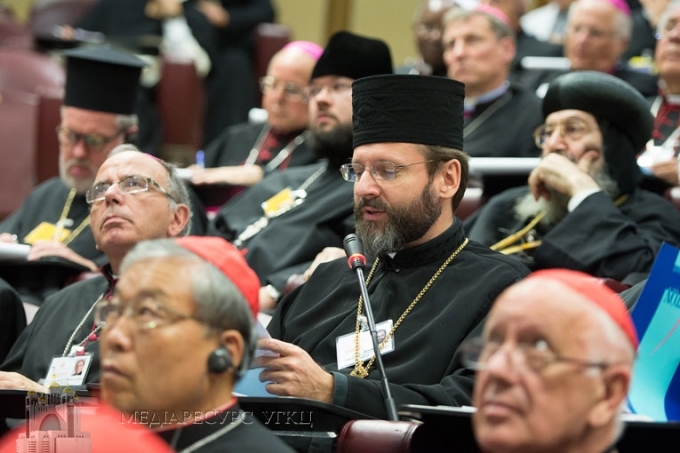 Our Ukrainian Greek-Catholic Church is getting ready for a commemoration of its 70th anniversary of Stalin's forced suppression in a Soviet Union and its forced joining to the Russian Orthodox Church. Since then our bishops, priests, monks and nuns had started their way of the cross and, above all, numerous Christian families who were made leave their lands and resettled to the "Siberian desert". During those times of our Church's persecution, mainly subdued and persecuted families had become a fire, preserving faith in God. There a new generations got a gift of faith, becoming a real home Churches. In their homes clandestine priests could find a refuge and place for building an altar for the Lord, where amongst silence of the night they were celebrating Saint Eucharist, granting also other Holy Sacraments.
After dissolution of the Soviet Union, family met with new challenges, in particular a new wave of emigration. Again, religious families, especially Ukrainian mothers, rooted our Church in the countries of our presence, mainly in West Europe. Oftentimes, those Ukrainian mothers and grandmothers returned Christian and all-human values to numerous Italian, Spanish, Portuguese families. A lot of old people from these countries died, having reconciled with God, receiving Anointing of the Sick, thanks to the Ukrainian nurse.
In XX century our priests followed our migrants to North and South America, Australia, West Europe, even Far East. We can say that Ukrainian religious family has broadcasted our Church all over the world and still accomplish its mission, remaining devoted to its moral and spiritually ascetic doctrine.
Even during the time of war in Ukraine, caused by really severe economic crisis, Christian family, facing one more challenge appeared to be considerate of refugees and a source of solidarity strength so far not seeing. By the UNO estimates, in Ukraine are counted nearly 1,5 million of refugees who have received help mainly from Ukrainian families, as a fundamental base of society.
Today I am saying, in the past a family has saved and preserved a Church. Now it is a sacred obligation of the Church to save and preserve a family as a loyal, undivided and plentiful union between man and woman.
My faithful asked me to appeal to the fathers of the Synod and remind that we, bishops are not the masters of a revealed truth about a family, but its servants. Our people expect us to prove and signify a doctrine of Church about a family, clarified and exposed by Blessed Pope Paul VI and Saint Pope John Paul II. Saint and pious families, consolidated in faith, will be seeking the most creative ways to respond to challenges of a modern society and will teach us to show mercy upon those who will go through difficulties. We cannot solve all the problems with what our families are tested, but we can proclaim Gospel's truth about a family and help the next generations to step onto this road to the holiness.
Rome, October 6, 2015
+ Sviatoslav
The main Archbishop of Kyiv-Galicia
of Ukrainian Greek-Catholic Church
PUBLICATIONS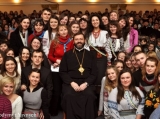 If, therefore, the Son sets you free, you will be free indeed. Jn 8:36