Cardinal Christoph Schonborn: The fate of Ukraine regards all of us
Saturday, 13 December 2014, 11:52
After return back to Vienna Cardinal Christoph Schönborn wrote the short reflections for the newspaper Zeitung Heute about his visit to Ukraine.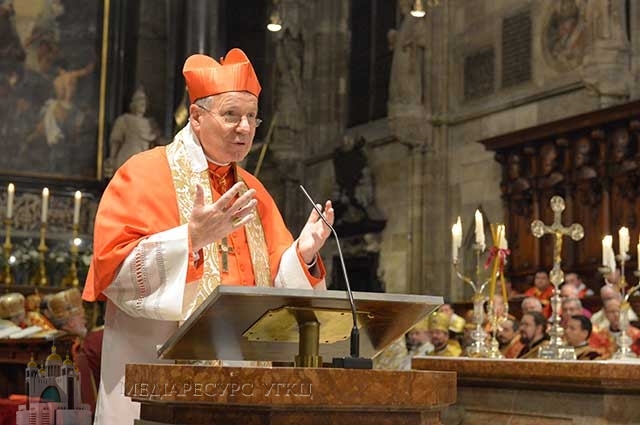 Exactly 25 years ago, in 1989, Mykhailo Gorbachev restored to the right of legal exiatance to the Ukrainian Greek Catholic Church. In 1946, during Stalin's rule, this Church endured horrific repression and was formally forced to survive in the undergound and to endure terrible perseutions. I have the great honour to come to this «Feast of the Resurrection of the UGCC» as legate of The Holy Father Francis. Today the UGCC is one of the most lively realities of free and independent Ukraine, and I had the great joy to see this for myself.
I was shocked when I visited the National Museum «Memorial to the Victims of the Holodomor in Ukraine», erected in memory of the millions of people who perished from famine, deliberately caused by Stalin. We knew almost nothing about this «Holodomor» – the deaht of millions of people from hunger during period between 1932 and 1934. Stalin created this famine artificially, in order to expropriate the property of farmers and, in this way, to weaken Ukraine. During the Second World War many more victims were added by Naziism – Jews and Ukrainians.
Truly, this land has endured great trials through suffering and is drenched through with blood. Today, this country wants to be a free, independent, and democratic state. Will it succeed? Will the West fulfull their promises to help and support? Will Russia abandon it's aggressive politik (the occupation of Crimea and territories in eastern Ukraine)?
What struck me the most during this visit, when meeting people – was their Hope and Strong Will never again to be enslaved, and their deep Faith that the Lord God has not forsaken them! And we shall not forget them, for their fate pertains to all of us!
Trans. Rev. A. McVay
PUBLICATIONS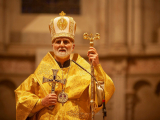 TUESDAY, JUNE 4 DURING HIERARCHIAL DIVINE LITURGY AT THE UKRAINIAN CATHOLIC CATHEDRAL IN PHILADELPHIA OVER 50 BISHOPS, WILL PARTICIPATE...