We Christians have a special mission – to transform a natural feeling of anger -- to courage, – His Beatitude Sviatoslav in an interview with NV
Wednesday, 27 April 2022, 22:28
You can't control your emotions when you see a young man lying in a mass grave with a shot to the back of the head. Well, how could you? You have to have a heart of stone not to react to a crime like that. But I think we, as Christians, have a special task: to turn this natural feeling of anger into courage through God's power and prayer. Courage is not about hating and beating someone right away. A man is a man who knows how to win, who knows how to endure. His Beatitude Sviatoslav spoke about these and other important things in an interview with Natalia Rop of NV.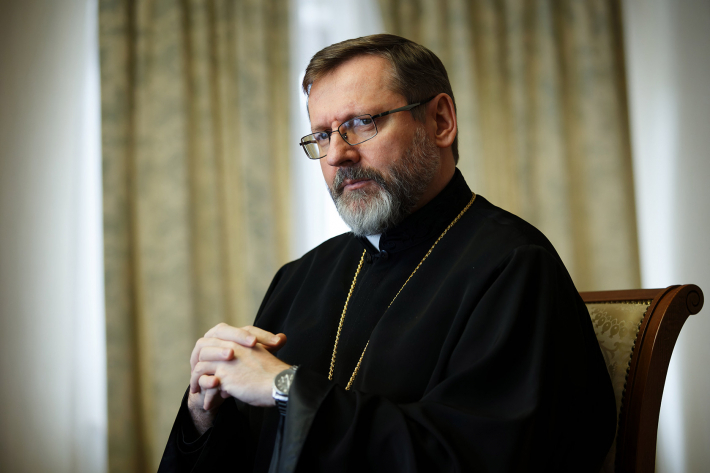 Last week, Ukrainians were outraged by the Vatican's scenario of the Way of the Cross, where a Ukrainian and a Russian woman were to carry the cross together at one of the stations. The reaction of Ukrainian society to this was conveyed to the Vatican by both the Pope's ambassador to Ukraine and by you through the Secretary of State. Nevertheless, the procession took place with this symbol of "reconciliation" of nations. How did you react to the Vatican's decision?
- It was a surprise for us, as, perhaps, the reaction of Greek Catholics, Roman Catholics, Ukrainian government officials and civil society -- was unexpected for the Vatican. Obviously, we began a vigorous communication with various Vatican structures. It turned out that this type of event is prepared far in advance. This script of the Way of the Cross was written before the beginning of the Russian-Ukrainian war. Obviously, if we had seen these texts and gestures before the war, we would have reacted to them in a slightly different way.
But when we saw it in the context of that intense phase of the war, after all the horrific acts of genocide against our people, after I visited our towns and villages that were under short-lived but deadly occupation, I realized that something was wrong. And we communicated that idea very intensively, to change something. Some things were changed, others were not.
An important focus of discussion in Ukrainian society today is the very idea of reconciliation. Can it happen?  How can we talk about reconciliation today? And if not today, when?
First of all, the very idea of reconciliation is at the core of Christian faith. The cross is a symbol of reconciliation between God and man, which then extends to reconciliation between people. The Apostle Paul claimed that his main mission was to promote reconciliation between God and man. Therefore, we Christians cannot reject the idea of reconciliation as such.
And with that we understand: when we speak of reconciliation, especially in the context of war and of Russia's open aggression against Ukraine, then we're speaking of a reconciliation not of some abstract ideas and nice wishes, but between live, wounded, people.  And this is a very complex concept. 
Abusing this concept can produce the opposite effect: people could reject the idea of reconciliation as such, and that would lead to irreparable consequences.  That is why it is very important for us to clarify for ourselves and explain to the world, even to Vatican theologians or liturgists, that reconciliation between people is a long-term process of healing.  And in order for it to start, certain conditions must be met. 
The first condition would be:  you must stop killing us.  We can't speak of healing wounds while the enemy is still constantly wounding you.  In order to reconcile, you have to be alive.  That's why I called this idea "untimely", not bad or erroneous, but untimely.  In order to achieve reconciliation in the future, we all need to work very hard.  And until this is done, it is not yet the time to discuss verbal or dramatized acts of reconciliation, particularly between the Ukrainian and Russian people. 
A second factor, without which there can be no beginning of reconciliation, is condemning criminal acts, in order to achieve justice for the victim. 
For example, a reconciliation between the Polish and German peoples – initiated by the Catholic episcopate in the 1960's -- would not have been possible if the Nurnberg trials had not occurred, and if Nazism as an ideology had not been condemned.  In our situation, any dialogue on reconciliation between Ukrainians and Russians can only take place when the Nuremberg Trials are conducted over the present murderous ideology, which has been declared a textbook case of genocide against Ukrainians by official Russian publications, including RIA Novosti. We cannot talk about justice if there is no criminal trial.
Therefore, we may need to think about the process of reconciliation, and pray for it. But today we cannot make gestures of reconciliation because they would be insincere. Perhaps this is an interesting goal for liturgists who would like to actually see the sign of peace extended to all.  But for the victims of this inhumane, bloody, genocidal war, this type of gesture is very offensive and painful. And I said this openly.
Why wasn't Ukraine fully heard by the Vatican?
- The gesture of the two women remained [in the script of the Way of the Cross]. Apparently, it could not be completely edited out, because it had already been announced, and the public wanted to see who those women were. I think that the reaction of Ukrainian society has made it clear that those women could not represent all of Ukraine, or Russia. Perhaps it was really about the friendship of two people who had long since left their countries (one - Russia, the other - Ukraine) and who work and socialize together. But their private friendship cannot become a symbol of an imaginary, desired friendship between peoples.  It was a gesture of private individuals, which did not represent the people, the Church or the state.
These are not the only actions of the Holy See that cause misunderstanding. For example, on April 17, the Pope acknowledged that Ukraine was a victim of the "crazy war in which it was involved." However, there was no mention of Russia invading Ukraine. How to explain such vague statements?
-- When we follow the personal rhetoric, language, and terminology of the Pope since the beginning of the war – there's been a certain evolution.  And that's good.  I would say, that his language has evolved on the side of Ukraine.
For example, Russia contends that there is no war.  For simply uttering the word "war", they can put someone in jail in Russia.  And the Pope said: there is no "special operation," there is a mad war, which defeats humanity with madness. He even used the word "sacrilege." The next very powerful factor is that we have seen who the Pope blames for this war. In addition to talking about the victims - Ukrainians who were unjustly attacked, -- he shows personal gestures of compassion and sympathy. Do you remember how he raised the flag from Bucha, kissed it and called for unceasing prayer for Ukraine?
Returning from Malta, giving an interview to journalists, the Pope listed everything that the Vatican tried to do for Ukraine in those few weeks: the mission of the two cardinals, his appeal and certain actions to receive our refugees. The Pope went further and said who was to blame for this war. However, he did not name names: he stated that someone in Eastern Europe is threatening the world with World War III and has started a war against Ukraine. We all understood who he was talking about, although you and I would have liked to hear who it is, concretely, by name. After all, we all know the name of the victim. We want to hear the name of the perpetrator.
It is possible that some change will continue in this direction. But I would like to say here that the Apostolic See today is trying to remain above the conflicting parties, so that it can then become a mediator, a bridge between the two. This is the peculiarity of Vatican diplomacy: only when the Vatican remains above the conflict can it mediate between the two sides. And today this factor is often used to save the lives of Ukrainians. In particular, when there is a request to open green corridors for humanitarian relief.
Now there is such a request to save Mariupol. And we have been talking about this for 55 days. And there have already been various diplomatic efforts addressing Russia, in order to unblock this city and save people. I would say that we are already feeling the fruits of this approach.
But being above the conflicting parties sometimes binds the hands of the Church in her prophetic voice. Because the voice that points to the criminal is prophetic. And we lack that prophetic voice a little. But in all this we, the bishops of Ukraine, are given the opportunity to be that prophetic voice, to speak clearly and truthfully who is the criminal and who is the victim.
I hope that this evolution in the rhetoric and statements of the Pope will continue in the direction of the position of the Ukrainian side and that with time the criminal will be clearly and distinctly condemned.
Today, what are the prospects of a Papal visit to Ukraine?  And does it still remain so desirable?
- I think that such a visit would be very useful for Ukraine. We in Kyiv are so happy when embassies return to the capital. This means that the world community and its diplomats are increasingly believing that Ukraine will win. Such support is very important for us. The Pope's visit to Ukraine would be an enormous sign, firstly, to gain the whole world's attention, and secondly, to demonstrate support and solidarity. The Pope would then finally side with Ukraine, even without words and declarations. You know, sometimes this Pope does not express himself very well, because he is not one to talk a lot. He does it with his actions. This is his way of communicating, his way of expressing his thoughts and attitudes.  And he assured me back in November of last year that he wanted to come to Ukraine. Obviously, this idea now takes on a different context.
Already during the Pope's interview on the plane (after returning from Malta) that we mentioned, he was also asked about it by journalists. He said yes, he has this visit as an item on his desk. That is, they are working on it very seriously. No one has put it away in a drawer or under a pile. But, as far as I understand, the final decision has not yet been made. The Pope told Ukraine's President about this during their last telephone conversation. Both we and the government are working to make this visit happen.
--Today, what is the Church's role in the war?
- I ask myself that question every day. When the first rockets landed in Kyiv on the morning of February 24, do you know what we immediately started doing? All our bishops, priests,--  whether in Kyiv, Kharkiv, Chernihiv, Sumy, Odesa, or Zaporizhia, -- all rushed to save people's lives. And everything else was subordinated to this imperative - to save and show the value of human life.
As the events unfolded, we conditionally divided the various circumstances and territory of Ukraine into three zones. The first was where active hostilities were occurring. Then Kyiv and its region fell into that category.  The response and concrete actions that needed to be taken here were different from those in western Ukraine. The second zone is adjacent to the places where the fighting is taking place. And the third – the calmer central and western regions of Ukraine.
And in each zone, we as the Church, acted differently. In the combat zone, bishops and priests unanimously decided to stay put, to be with their people. We were there and helped others to leave. We tried to set up bomb shelters, feed the people, deliver clothing and needed aid. 
 But at the same time, we help those people who want to move – with transport, advice, contacts and so on. They set up logistics for the delivery of humanitarian goods to those hot spots.
In the area adjacent to the hotspots, we created logistics centers and refugee assistance centers that are on the road. For example, in the first weeks, the only free corridor enjoyed by millions to go from east to west was from Uman to Vinnytsia and then to Khmelnytsky (because the Kyiv-Zhytomyr highway was closed). This route was not adapted for the simultaneous movement of so many people.
It took at least 27 hours to get from Uman to Khmelnytsky or Lviv. Imagine the mass of people who are on the road all these days! And then we tried to help refuel the cars, feed those people, keep them warm and clothed.  When someone asked, we created an opportunity for them to spend the night.
On the other hand, we did our best to move other trucks from west to east. Sometimes drivers did not have the courage to move further east - they reached the regions south of Kyiv or Zhytomyr or Vinnytsia. And then it was necessary to reload goods from the big trucks into smaller cars and to direct them along field roads to where they were most needed.
It was a huge job. But such logistics centers have worked for us. I visited them and was impressed by the ingenuity of our priests and volunteers. Without the volunteers, and the spontaneous response of people from different churches who have joined the mission of our Church, it would have been difficult to do all this.
The third zone is the calmer one of Western Ukraine, which has received refugees. It was necessary to place them somewhere, find a roof over their heads, provide them with the means of life, in particular for women and children.
In all three areas, our Church rapidly reorganized and strove for the most efficient approach.
- What is the situation with UGCC communities in the temporarily occupied territories? How do the occupiers treat them?
- I'd better not tell you for the sake of those people's safety. But I will say that we try to keep in touch with all the priests. Thank God, everyone is alive. We are looking for ways to help them. No one left their place of service.
I am really proud of our fathers in Kherson. The famous Chornobaivka is seven kilometers from their monastery. I am proud of our fathers in Melitopol and other cities that came under occupation in the south of Ukraine. Yes, they are invited [to the occupying militia] for "conversations", yes, they are "visited" and so on. But they continue to serve, to feed the people, to be there for the people, almost the only support and anchor for them in these difficult times.
I am particularly pained over Mariupol. One of our priests in Mariupol was one of the last to leave in the humanitarian corridor. And last week our house of Caritas in Mariupol was shot from a tank, and two people died. In other words, Caritas Ukraine, as a church aid structure, worked there to the last, even in such extreme conditions. Right now, we don't have the latest information.  That outpost of the Church's humanitarian ministry is probably still paralyzed. But we do our best.
As for the territories that were occupied, but have already been cleared, I will mention only two centres.
One is Chernihiv, where our Redemptorist fathers and priests lived constantly under bombing raids with our people. Thank God that everyone is safe and sound. After all, Chernihiv was under tactical occupation. There were times when we could not contact them because there was no electricity, no light nor heat. But they heroically survived.
However, a particularly striking case is that of our priest in Slavutych and his wife. I was so worried about him, I was praying for him so! There was a moment when he managed to break through from Slavutych with our military to Kyiv in order to get humanitarian aid. I saw him here, in the Patriarchal Cathedral.
He said that, unfortunately, he was no longer able to return quickly, because Russian tanks had closed the road on which he had come. He was accompanied by a high-ranking officer, to whom I said, "Officer, save me that priest. Because we'll always replace tanks and houses, but I can never replace a guy like that."  And they then somehow returned, and made their way into the besieged city. His pregnant wife had remained, experienced the beginning of the occupation, and then gave birth to their third child in a dark, cold maternity hospital by candlelight. It was like some kind of a Paschal mystery. There was a moment when Russian troops were still entering Slavutych.  I immediately called him and asked, "What are you doing?" And he said: "I'm standing with the people, holding a cross in front of a Russian tank." Imagine! Tears welled up in my eyes. And Slavutych persevered.
- Russia's cruel treatment of Ukrainians arouses hatred and a thirst for revenge in many. And Christians, whom the Church teaches that this is a sin, are not immune to such a reaction. Is it normal to have such feelings at this time?
- In these circumstances, I've experienced a certain evolution in my own views. Once, when I was a teacher of moral theology and lived in a world of pious and good ideas, I judged some things differently. Certain principles and truths are eternal and cannot be denied. There are no circumstances that can overturn God's commandment, "Thou shalt not kill."
However, when I saw how our Kyiv was bombed, and then visited all the other cities and villages liberated from the occupation, it gave me pause. This was more about the lives of real persons, than of ideas.  Pope Francis stated that man is more important than ideas, and his statement gave me courage.  I will say this: a person's reaction to the circumstances of war can obviously be one of anger.
However, I think that we Christians have a special task (and this, by the way, is one of the rules of Christian asceticism): to turn this natural feeling of anger into courage through God's power and prayer. Courage is a virtue that takes the raw material of our anger and transforms it. And I pray fervently that in this faith of ours, seeing these crimes, we will grow from raw human anger to righteous wrath, which will constantly disturb our conscience, not allowing us to forget, giving us no right to remain silent, no right to ever sit back passively for a moment.
We must be courageous, resilient and move towards victory. And I wish this for all of us.
PUBLICATIONS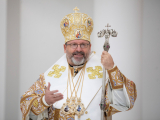 I want to thank everyone who today cares about the pain of wounded Ukrainians as if it were their own; all those who accept Ukrainian children for...