A delegation of PMB visited Ukrainian communities in Tallinn and Riga
Tuesday, 07 July 2015, 13:44
The Head of the PMB, bishop Josyf (Milyan) and a secretary of PMB, father Andriy Gakh paid a working visit Ukrainian community in Tallinn.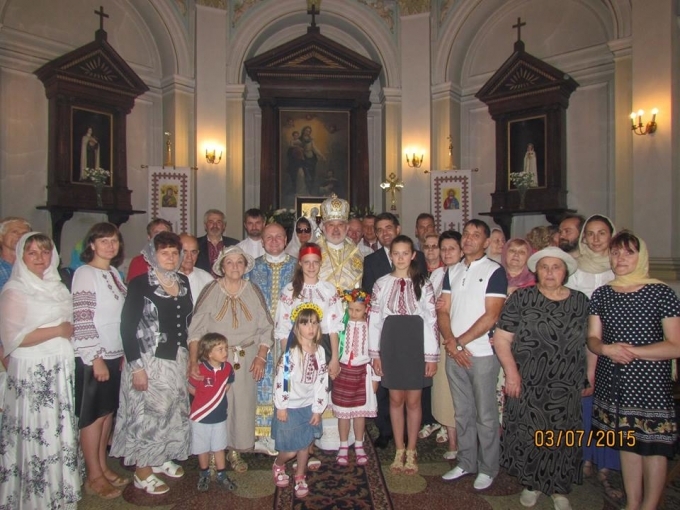 After a Liturgy PMB delegation met with a native bishop Philippe Jourdan, Apostolic administrator in Tallinn. During a meeting a question about an improvement of a pastoral care over faithful of UGCC in Tallinn was being discussed. Bishop Philippe was also interested about a situation in Ukraine and assured that his flock is praying for peace in Ukraine.
Meetings were also held with a senior priest of Church of a Three-handed Virgin Mary – a Patroness of all innocently insulted - father Volodymyr Paliyenko, the head of Ukrainian community – Anatoliy Lyutyuk and all the faithful.
The same day a delegation visited Ukrainian community in Riga, where bishop Josyf celebrated a Saint Liturgy and appealed to a local community with his word. At a Mass was present an ambassador of Ukraine in the Republic of Latvia, Yevgen Perebyinis.
After serving a Mass was conducted a meeting with a community, where a situation in Ukraine and arrangements of Ukrainian Church community in Riga, headed by father Roman Sapugzak, were discussed.
Department of Information UGCC
PUBLICATIONS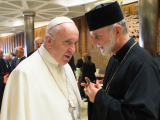 An unprecedented event took place in Rome on July 5-6. Desiring to demonstrate support for the Ukrainian Greek-Catholic Church at a time of...
MEDIA