A discussion about Greek-Catholics in Poland and Belarus took place at the Warsaw Catholic Intelligentsia Club
Wednesday, 28 November 2012, 22:40
On November 20, 2012 a gathering took place in Warsaw at which participants attempted to better understand the Greek-Catholic Church and Greek-Catholics who live in Poland and Belarus. After a short introduction about eastern Churches by Mykola Flys, thoughts were exchanged by Anastasia Ilyina, a Greek-Catholic from Belarus, Rev. Petro Kushka, a Greek-Catholic priest in Warsaw, and Luka Reit, a local Greek-Catholic, reported UGCC Peremyshl-Warsaw Archeparchy Press Office.
Anastasia Ilyina became a Greek-Catholic as an adult.  She described the difficult reality of the Greek-Catholics in Belarus.  There is no Greek-Catholic church in the country because the administration has prohibited building one.  Priests hold services in regular buildings by creating a chapel space.
"In Belarus there are young Greek-Catholic priests, although some of them study at Roman-Catholic seminaries, particularly in Drohichyn," noted Anastasia.  "Therefore they cannot be educated in the Eastern Rite, study Eastern theology, spirituality and canonical law.  Those who study in the UGCC  Drohobych Spiritual Seminary are in a better position."  Ms. Ilyina also voiced her regret that until now there is no Greek-Catholic bishop in Belarus; she would very much like to see a Belarusian become a bishop – someone who grew up in this country and therefore can best perceive the needs of local people.
The bishops participate in the meetings of the Conference of Polish Bishops and are members of the UGCC Synod of Bishops.  The Greek-Catholics have reason to consider themselves Ukrainians; however, there are also Poles who eventually became Greek-Catholics and those who upon marrying a Greek-Catholic joined the Greek-Catholic community.
Rev. Petro Kushka noted the good relationship which exists between UGCC in Poland and the Roman-Catholic Church.  "Yet, unfortunately, in places where there are no Greek-Catholics or they are very dispersed, the Roman-Catholic priests know very little or nothing as to who are the Greek-Catholics and the UGCC.  There are cases when a marriage between a Greek-Catholic and a Roman-Catholic is considered a mixed marriage and require that both sides sign appropriate canonical obligations."
UGCC Department of Information
PUBLICATIONS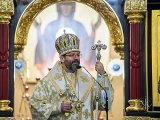 Head of the Ukrainian Greek Catholic Church brings multifaceted experience to project of evangelization.
MEDIA