A Divine Liturgy was served in English language in Zazdrist
Tuesday, 11 August 2015, 12:57
On 8th of August in memorial and museum complex named after Patriarch Josyf Slipyi in Zazdrist village, Ternopil region, a Divine Liturgy was celebrated in English language. A lecturer from Ternopil Holy Spirit Seminary father-doctor Ivan Sichkaryk and a guest from the USA, senior priest of church of Annunciation of the Blessed Virgin Mary in Elkins Park (Pennsylvania), father Igor Bloshchynskiy sacrificed a Liturgy to all participants of a charitable summer school of English language that is being held from 26th of July in a native village of His Eminent Beatitude Josyf.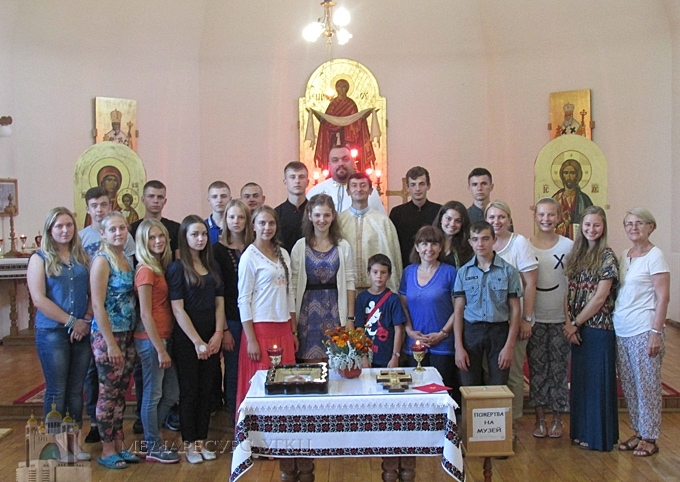 On Monday the 3rd of August, children were arranged an excursion to the native farmstead of a God's servant where they discovered the way of cross of his pastoral serving his Church and people. On Wednesday the 5th of August all the participants made a thankful pilgrimage to the Blessed Virgin Mary of Zarvanytsia where they prayed a rosary and Stations of the Cross, took part in a informative quest about a history of this holy place, visiting also the participants of a Christian camp "Joyful vacation with God". On Friday the 7th of August, the youth was praying Requiem on the grave of Patriarch Josyf's parents, served by a senior priest of a local church, father Andriy Kozak.
As it was informed earlier, this project had been prepared by a Religious society of Ukrainian Catholics "Saint Sophia" in the USA for children-refugees from ATO zone whose parents are present today in a zone of military campaign on the East of the country, orphans and seminarians of Ternopil Holy Spirit Seminary.
During three weeks the volunteers from the USA are teaching English the 17 participants from Lviv, Ternopil, Kherson, Mykolaiv and Donetsk regions. Absolutely English surroundings is created for them, multi-planning educational informative programme, prayerful guide, lessons of American cuisine, karaoke and interesting excursions to Podilskiy district. The school will be lasting till 15th of August.
Press-service of a Religious society "Saint Sophia", USA
PUBLICATIONS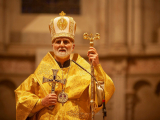 TUESDAY, JUNE 4 DURING HIERARCHIAL DIVINE LITURGY AT THE UKRAINIAN CATHOLIC CATHEDRAL IN PHILADELPHIA OVER 50 BISHOPS, WILL PARTICIPATE...
MEDIA