A posture of patriarch Josyf Slipyj is a good medicine for those who don't see a perspective
Tuesday, 13 February 2018, 21:13
"When it comes to futility, Josyf Slipyj is a good medicine to prevent it. What could have been a perspective in a contraction camp? However, in 1949 he writes a letter to Klymentiy Sheptytskyi about the development of Ukraine, technology, trains, transport, the only word "internet" was missing there", told Borys Gudziak, Bishop at Eparchy of St. Volodymyr in Paris for Ukrainian Greek Catholics in France, Benelux and Switzerland, president of UCU. The speech was delivered on 9th of February 2018 in Kyiv during an open discussion "Patriarch Josef Slipyi: To be yourself". The discussion was held on occasion of completing a Jubilee year dedicated to 125th anniversary of Josyf Slipyj birthday.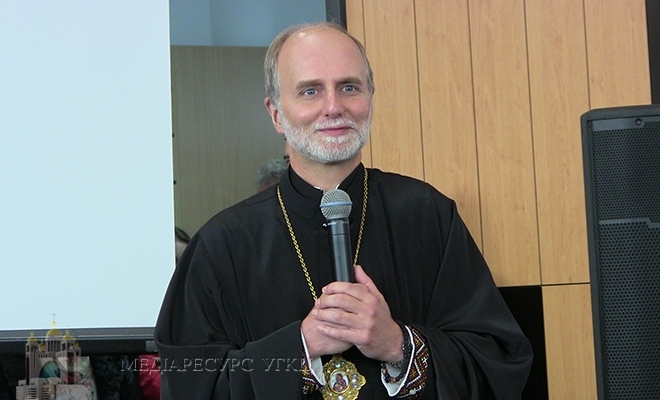 As bishop Borys said, within a Year of Josyf Slipyj he experienced something very personal… "Certainly, everyone who heard and saw, had discussions while watching films about the Patriarch, experienced something too. Apparently, I experienced something personal. There are lots of point which were refreshed, some renewed. And in terms of these questions it acquires very interesting accents. I assume that Ukraine and its people have just begun to reveal to themselves Josyf Slipyj as a particular mirror, where one can see himself. A curious mirror", the bishop said.
The bishop said that patriarch Josyf was a person of a traditional Greek-catholic Galician rural raising.
If look at a line through his life, we see that it extended endlessly along with different perspectives and experiences.
"That's how I saw him when I was a teenager in 70ies. Why I wasn't attending the seminary in America? Why I had to go through different obstacles in my family, in my environment, geography, maybe even some fear to go to Rome? Because there where patriarch Josyf was staying. I understood that he symbolized two things to me. He was so mine, so ours, so much into our nation and our Church. He made sense, symbolized my clerical identity, what I was born and raised in, simultaneously being so versatile…"
Being an intellectual he was a theologist of the Catholic Church as a specialist in neo-scholastic theology. He knew languages, cultures, which were traditional high cultures of Europe. Later life brought him to Asia… That would be interesting if it were possible to collect some facts about the people he communicated with in prisons.
He was about growth, development, endorsement. I guess, he listened and saw much. He was always at some work. And he was doing it notwithstanding was it any sort of beneficial or not.
"You know, it's easy to criticize everything: there's no one there, everything goes bad in Church, everything is wrong in politics, a university is drowning in bribes. And when it comes to a futility desperation – Josyf Slipyj is a very good medicine to prevent it. Since what kind of perspective might have been in a contraction camp? However, in 1949 he writes a letter to Klymentyi Sheptytskyi about a development in Ukraine, which was found just 15 years ago.
As bishop Borys said, patriarch Josyf had a critical attitude towards different ideologies and respected people who do something. He did a lot, being an example of working hard. He generated a liturgical commission, doing translations on his own. For five years he did more than liturgical commission did within next forty years.
"He kept a contact with everyone: a woman who had disordered sexual life, deprives, blinds, with Rome's government, officers. And he was giving hope. I can testify that Josef Slipyi gave me hope, too", bishop replied emotionally.
"This Year is something very beautiful. I hope it's just a beginning, and God grant us, so it might prolong…", the president of UCU summed up.
The UGCC Department for Information
PUBLICATIONS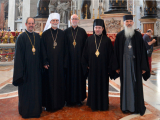 Glory to Jesus Christ! Beloved Brothers and Sisters in Christ!
MEDIA