A study tour for UGCC nuns who are economists through countries of Western Europe
Saturday, 14 June 2014, 10:20
Within the framework of UCU Institute of Leadership and Management, A Study Program for UGCC female monastic orders and communities, a study tour for nuns who are economists tool place from May 30- June 7, 2014 through countries of Western Europe.
The goal of this tour was to study social entrepreneurship in female and male monasteries in Poland, Czech Republic, Germany, and Austria.
The nuns familiarized themselves with the experience of home management, the organization and management of small businesses and social entrepreneurship in monasteries of various European countries. Also the economists visited the Abbey of Münsterschwarzach, where Rev. Anselm Hriun, OSB, is the treasurer, and other monasteries of the Roman Catholic Church in Germany, Austria, and other places.
UGCC Department of Information
PUBLICATIONS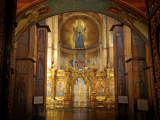 Dear brothers and sisters in Christ! Throughout our millennial history, our Church and our people have fully experienced in their bodies the...
MEDIA