A unique presentation of a postmark "Saint Sophia Cathedral in Rome" was held in the Patriarchal Cathedral
Friday, 23 August 2019, 17:51
Today on 20 August 2019 in the Patriarchal Cathedral of the Resurrection of Christ of UGCC in Kyiv a ceremonial cancellation marked with a special stamp "Saint Sophia Cathedral in Rome" was held. Previously on occasion of the 50th anniversary of the consecration of St Sophia Cathedral in Rome, Ukrainian state enterprise of postal connection "Ukrposhta" designed a postmark and and an envelope of "St Sophia Cathedral in Rome".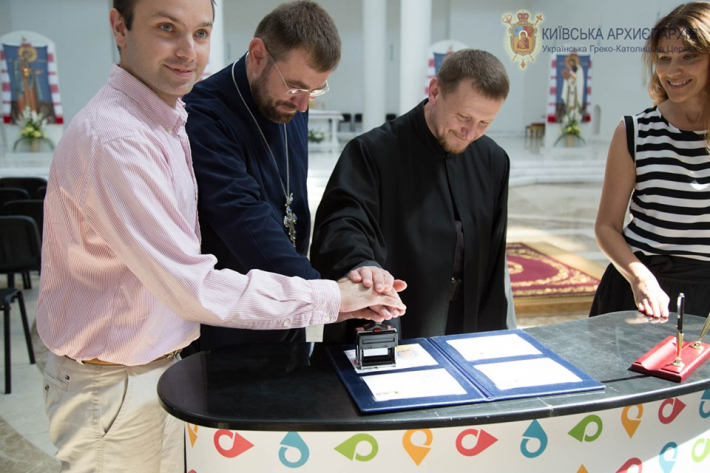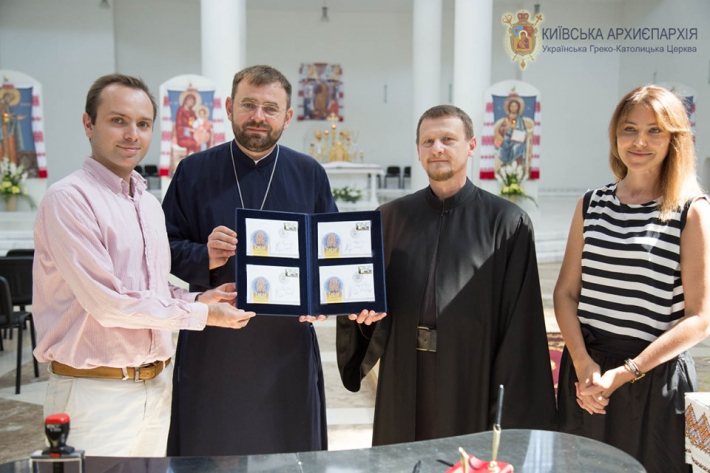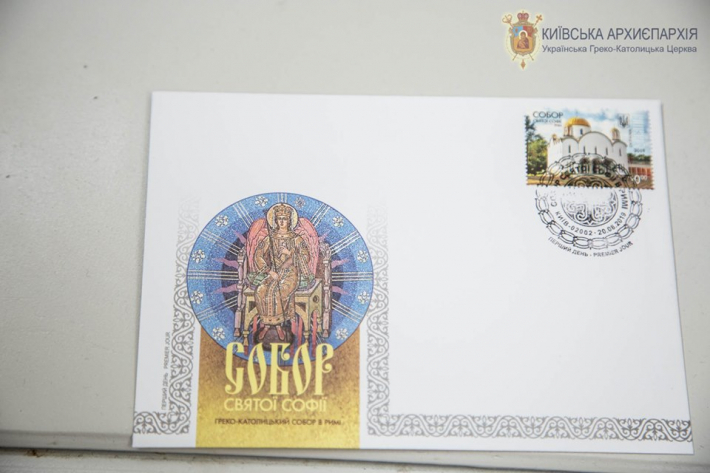 It was designed by brothers Oleksandr and Serhiy Kharuky who are the creators of Ukrainian banknotes. In a festive ceremony participated Fr. Mykola Loik, the senior priest of the Patriarchal Cathedral, Fr. Marko Semehen, president of "St. Sophia" religious association and Oleksandr Pertsovskiy, the first vice president of "Ukrposhta". Fr. Marko Semehen said that "Saint Sophia Cathedral played a significant role in time of Iron Curtain. It was a powerful spiritual, intellectual center, where numerous of consolidation processes of Ukrainian emigration and Ukrainian Church were established. That is why today through this stamp we first of all will be able to honor those who had built it, yet open it to a wider range of Ukrainian society", the priest emphasized. Oleksandr Pertsovskiy mentioned that Ukrainian temples abroad are very important for Ukrainian community, besides it is a peculiar connection portal with its people. "This is the place where accommunity gets together, especially in rough times and unites around an idea to help their Motherland". Appealing to present ones, the senior priest of the Patriarchal Cathedral said that today with this presentation a memory of the church is perpetuated which preserves faith and culture of Ukrainian people. Later a ceremony of cancellation of postmarks and envelopes, released on occasion of the memorial day took place. Hence, the participants exchanged gifts. Press Service of Kyiv Archeparchy
PUBLICATIONS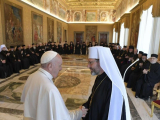 United around you today, Holy Father, we want to assure you that our Church is undergoing a pastoral transformation. We are aware that it is not...
MEDIA