An art studio was opened in Zarvanytsia for money raised from the activity of social enterprises
Tuesday, 04 February 2020, 11:28
January 31, a grand opening of an art studio of an airy paintbrush "Inspiration of Zarvanytsia" took place in Zarvanytsia, promoted with a contribution of Fr. Volodymyr Firman, rector of the Marian Spiritual Centre and dean of Zarvanytsia, Fr. Volodymyr Toporovskiy, as well as for money collected from the activity of social enterprises, functioning in Zarvanytsia.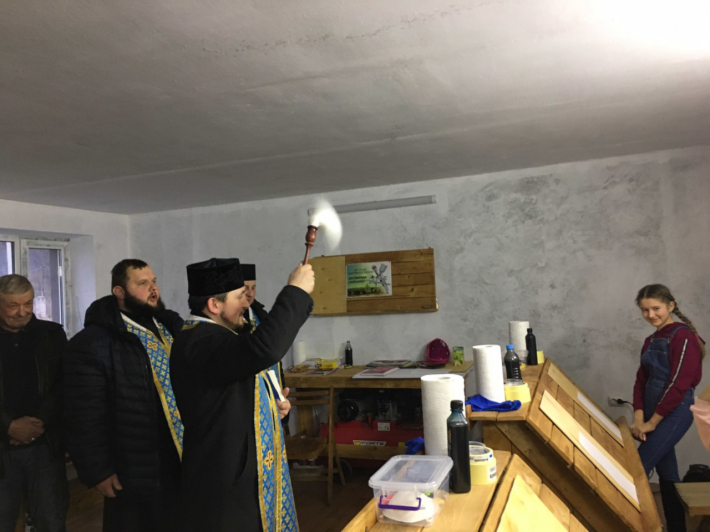 The organizer and artistic manager of an art school became Ms. Khrystyna Bochan – a talented artist from Latvia, whose works impress with their craftsmanship and realism. Her pictures and icons can be viewed in the Marian Spiritual Centre, kindergarten "Dzhereltse" and in a village Vyshnivchyk, what is nearby. The art studio is located in the premises of a retreat house for pilgrims. The first ones who will be mastering a technique of painting – airbrush, are twelve children from Zarvanytsia and surrounding villages, aging 10 – 15. A course lasts three months with a certificate of completion after it.
A grand opening started with a prayer and consecration of school rooms, served by Fr. Ihor Zasiybida, administrator of the Marian Centre, Fr. Ostap Lutsiv, a parish priest of Zolota Sloboda village and Fr. Yanuariy Tverdun, a parish priest of Sapovy village. After the service, Fr. Ihor expressed his gratitude to the young students, who were willing to learn something new, and aroused hope for developing talents God has bestowed on them with the help of this new project.
Hence, Ms. Khrystyna has described in details how this unusual art technique works, familiarized with an airbrush and other tools, which children will be working with. By the end of the first class every little participant was able to create their first art work.
West office of "Zhyve.TV" by the materials http://zarvanytsya.org
PUBLICATIONS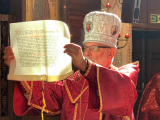 TO OUR BELOVED BROTHER IN CHRIST Most Reverend Bishop Kenneth Anthony Adam Nowakowski
MEDIA