Announcing a New Edition of the Divine Office (Horologion) in English
Friday, 04 July 2015, 23:51
In 2002 the Stamford Eparchy printed an English translation of the original 1990 Ukrainian Molytvoslov (Horologion) of the monks of the Order of St. Basil, the Great. It proved to be extremely popular among English-speaking clergy, religious and faithful, so much so that it was completely sold out within a few years.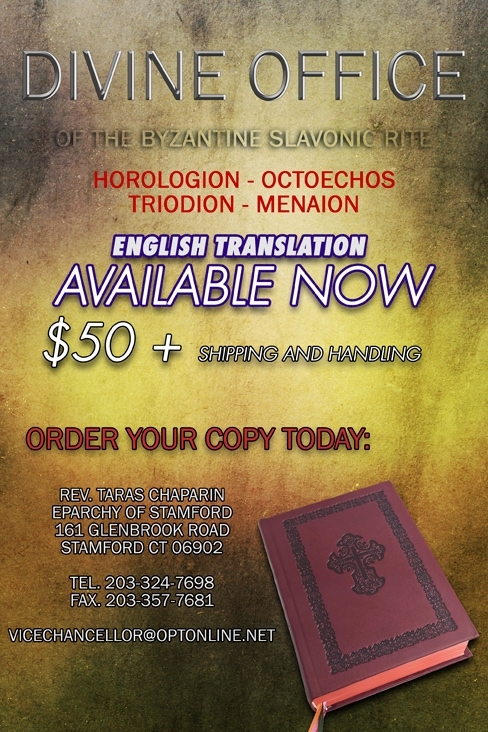 Today we are pleased to announce the arrival of a new, corrected and updated edition of the 2002 English translation of the Horologion consisting of 1379 printed pages. Additions include English text under notes for singing the services of the Paschal Triduum (Good Friday, Holy Saturday and Easter Sunday), tropars and kondaks for the contemporary Ukrainian Blessed Martyrs, and propers for the Second Sunday of Great Lent (St. Gregory Palamas).
The elegantly embossed burgundy cover will grace your bookcase and the high-quality, sturdy binding will ensure many years of daily use.
We are indebted to Rev. Maxim Kobasuk, OSBM for the painstaking diligence with which he corrected and updated the text, to Mr. Ihor Stasiuk for providing the musical notation to the English text, and to Mr. Joseph Roll and others for their expertise and help. Please remember them when you take up this beautiful book to pray.
Place your order by contacting the Chancery Office of the Stamford Eparchy by telephone (203-324-7698), fax (203-357-7681) or e-mail (vicechancellor@optonline.net)
Press Office of the Stamford Eparchy
PUBLICATIONS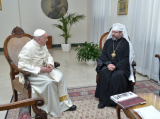 3 July at 10:00 AM, at Casa Santa Marta in the Vatican, Pope Francis met with His Beatitude Sviatoslav. The meeting was held at the request of the...
MEDIA