Apostolic Nuncio in Ukraine told the Permanent Synod about the current state of the action "Pope for the Ukraine"
Thursday, 08 December 2016, 13:52
The second day of the working of the 18th (49th) session of the Permanent Synod was dedicated to the consideration of reports of Patriarchal commissions and departments. Bishop Michael (Bubniy) presented the activities of the Commission for monks, drawing attention to the challenges facing consecrated persons.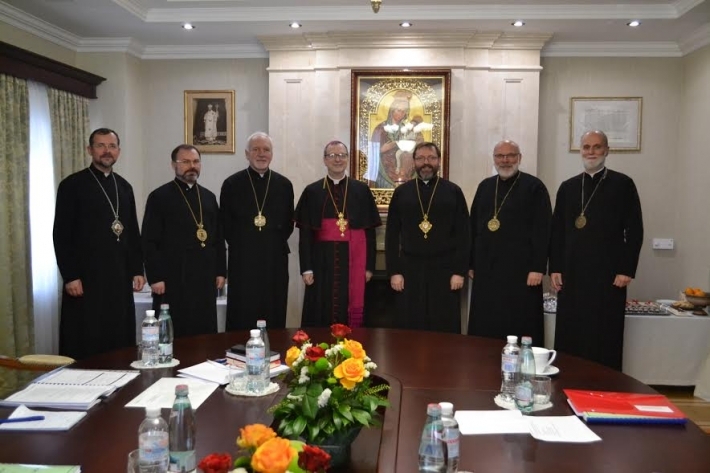 In particular, discussed the distribution of the Commission on the general Church level. Participants stressed that between monastic persons in Ukraine and their brothers and sisters in the diaspora should strengthen contacts for better mutual knowledge and creative exchange gifts.
Following the report of the Council for Evangelization at the Head of Church, headed by Bishop Josaphat (Moschych) Permanent Synod blessed two evangelistic program: Program"The Road and the key", aimed to unbaptized persons, and the program "Good News of salvation", designed for those members Church seeking to deepen their spiritual life. Bishop Basil (Tuchapets) briefed the members of the Permanent Synod of the state of social service in the Church and prospects of the newly created Department of Social Service, which will be under his care. Synod fathers stressed that care about our neighbor is not only the task of charitable organizations such as "Caritas", but should be an integral part of spirituality and way of life of every Christian. It is in this spirit was instructed to work out and implement to  the Program of Social Ministry Church.
On 6th of December Permanent Synod visited Archbishop Claudio Hudzherotti, Apostolic Nuncio in Ukraine. In sincere fraternal communion exchanged bishops views on pastoral problems and challenges facing the Church in Ukraine and in the diaspora. In particular, much attention was devoted to humanitarian action "the Pope for Ukraine", aimed to help the victims of the consequences of military aggression in eastern Ukraine. Apostolic Nuncio said that the Holy Father personally and regularly interested in the situation in Ukraine and wants every donation that made the Catholics of Europe within the assembly on April 24, actually reached needy people. Today, together with a personal donation of Pope Francis amount of money raised has exceeded 10 million euros, and decisions on specific projects, which will be directed these funds will be taken by relevant committees of the Apostolic soon.
On this occasion Bishop Hudzherotti thanked the Head of UGCC for valuable initiative and constructive attitude in establishing cooperation both within the Catholic community in Ukraine, and in the field of church-state relations. His Beatitude Sviatoslav invited Apostolic Nuncio to participate in the Christmas religious services in the Patriarchal Cathedral of the Resurrection, and the representative of the Holy Father in Ukraine invited all those present to participate in tje carols at the Apostolic Nunciature.
Department of Information UGCC
MEDIA