Bishop Stepan Sus to Ivano-Frankivsk seminarians: Don't be afraid to be innovators
Thursday, 20 February 2020, 08:10
"Don't be afraid to be an innovator. The truth of the Lord is unchanging, but we have the right to choose the methods to convey it," said the head of Pastoral-Migration Department Bishop Stepan Sus during a meeting with students of the Ivano-Frankivsk Theological Seminary.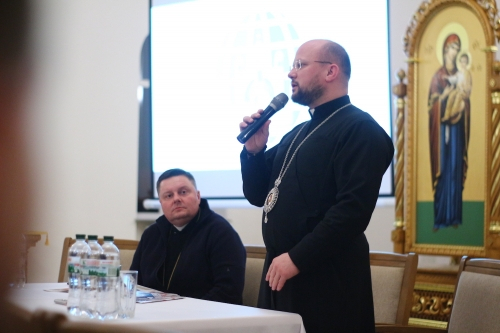 The meeting, which was also attended by the staff of the PMD Fr. Andriy Gakh, Fr. Roman Ilnytsky, and the rector of the seminary Roman Mykiyevych, was held within the framework of the traditional visit of the PMD of all the UGCC seminaries to nurture the missionary spirit and to inform about the contemporary needs of the ministry.
"Our Church is not closed in itself. Anyone who wants to develop, grow, be effective - should not be afraid to step out of their comfort zone. The main purpose of the seminary is to learn to serve God and people. And throughout your life, throughout your ministry, you must learn to go beyond your own comfort, beyond your own parishes," said Bishop Stepan, addressing the seminarians.
The bishop emphasized that the 21st Century Church should be mobile, flexible and responsive to all the challenges of today. "In my opinion, the concept of chaplaincy is to go to people, work with them, be open. The first chaplain was Jesus Christ. He did not sit in the synagogue saying, 'Come all here - I am your Teacher.' He went to the people - and we should do the same," emphasized the PMD chairman.
Speaking about the activities of the PMD, the bishop noted that today the department takes care of Ukrainians in different corners of the world - in Europe, Asia and Africa, where there are no hierarchical structures of the UGCC.
"There are many places where Ukrainians are waiting for their pastor, " said the bishop.
Father Andriy Gakh presented the activities of the PMD. In particular, he spoke about holding a special course for seminarians of the penultimate year of study, which the PMD annually organizes to familiarize future pastors with the opportunities and features of ministry for UGCC faithful outside Ukraine. He also mentioned the spiritual formation workshops for missionary priests and the UGCC Migrant Forums.
The UGCC Department for Information
PUBLICATIONS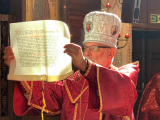 TO OUR BELOVED BROTHER IN CHRIST Most Reverend Bishop Kenneth Anthony Adam Nowakowski
MEDIA